Toyota Prius in new blow as US opens brakes inquiry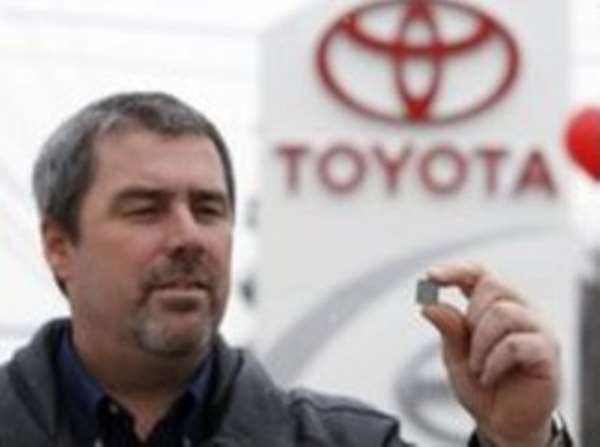 Shim'll fix it: A mechanic examines the small solution to the sticking pedal

The US Transportation Department has opened an investigation into brake problems in the 2010 Toyota Prius.
The move follows an admission from the Japanese carmaker that it had had design problems with the brakes in the best-selling petrol-electric hybrid.
The National Highway Traffic Safety Administration has received 124 reports from drivers about the issue, including four of crashes.
There have been no reports of any such accidents in the UK.
The investigation will look into allegations of momentary loss of braking capability while travelling over uneven road surfaces, potholes or bumps.
The Japanese government has ordered Toyota to investigate brake problems.
Toyota says it has now fixed the brake software problem.
This latest alarm for the beleaguered carmaker - the world's number one - follows worldwide recalls of almost eight million cars due to floor mat and pedal problems.
Toyota's managing officer, Hiroyuki Yokoyama, said although the company had found a clash between the anti-lock brake system (ABS) and regenerative braking, more investigation needed to be done before deciding on whether to issue a recall on the Prius.
He told a press conference in Japan: "As for whether this will mean a recall, we are currently looking into what we can do as soon as possible for our customers to buy our vehicles. However, we hope for a bit more time before deciding on specific measures."
Limited problem
Mr Yokoyama said the clash occurred under limited circumstances, including on frozen surfaces.
As depressing the brakes further activated normal braking, Toyota said the glitch was not legally a safety hazard and said it had received no reports of any accidents related to it.
Mr Yokoyama said Toyota was listening and responding to its customers' concerns: "When we've been told something by our customers, our goal is to respond as soon as possible, and we have already changed the design for the Prius from January."
Toyota's admission follows 200 reports of complaints from drivers in the US and Japan. There have been no braking problems reported in Europe, the carmaker said.
In the UK, it confirmed that it would be nearly a week before it could start repairs on cars with defective accelerator pedals.
Profits surge
Earlier, Toyota reported a huge swing back into profit in the last quarter of 2009.
Its net income was 153 billion yen ($1.68bn; £1.06bn) after a loss of 164 billion yen a year earlier.
Toyota confirmed its estimate that it would lose about $2bn (£1.23bn) in costs and lost sales from its worldwide recall of potentially faulty vehicles.
It added it had not yet worked out the cost of the latest reports of brake problems with the new Prius.
Still growing
However, the firm said it still expected higher sales and to make a profit this year, despite the heavy blow to the company's reputation.
Shares in Toyota hit their lowest level for 10 months on the Tokyo Stock Exchange on Thursday, with continuing concern about the safety of the company's vehicles.
Its eight million recall total includes 1.8 million cars across Europe - 180,865 of those in the UK.
The seven models being recalled in Europe are the Aygo, iQ, Yaris, Auris, Corolla, Verso, and Avensis, and cover manufacturing dates going back to February 2005.
In the US, they are the RAV4, Corollas, Matrix, Avalons, Camrys, Highlander, Tundra, and Sequoia, and cover dates going back to October 2005.
The parts needed to repair the cars will not arrive in the UK until next week, with the first repairs scheduled for Wednesday. Toyota says the process, which should only be carried out by its dealers, takes about half an hour.
The carmaker said it was not aware of any accidents resulting from the issue and that only 26 incidents involving accelerator pedals had been reported in Europe.