Foundation will make the poor better off - Akuffo-Addo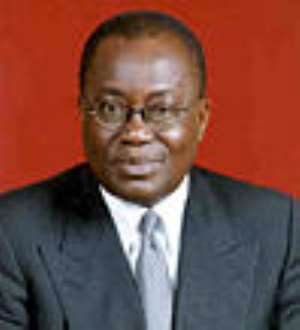 Major legal reforms and interventions would follow the launch of the Foundation for the Building of the Capital of the Poor to formalise small businesses and facilitate their access to investment funds.
Minister for Justice Nana Addo Dankwa Akuffo- Addo told journalists on Sunday after President John Agyekum Kufuor, Former United States President Bill Clinton, Dr Hernando Soto, founder of the Peruvian Institute of Liberty and Democracy and some Ministers of State had held informal discussions on the Foundation.
Nana Akufo Addo said: "We are excited about the prospects of the Foundation because it would help to transform our informal businesses into viable ones and assist Ghana to build a private enterprise-driven economy with everybody having a stake in it."
The discussions were held in-camera after which President Kufuor and his guests moved into a dinner hosted in honour of Mr Clinton, who became the first sitting US President to visit Ghana, in March 1998.
Mr Clinton, the Patron of the Foundation, arrived this morning to be the Guest of Honour at a ceremony on Monday at which President Kufuor would launch the Foundation.
Giving examples of some of the proposed reforms, Nana Akufo-Addo, who is also the Attorney General, said all legal businesses, no matter how small or their nature would be registered and encouraged to keep proper records so that their potentials would be promoted to attract investments.
He said: "It could be a small bakery in a corner that is overlooked as a business, but it is well managed and packaged so it can attract funds to expand it." The Foundation would, therefore, assist in mobilising the assets held by the poor to facilitate their economic development.
It would establish a regional training institute in Accra for the benefit of other African countries interested in property reform programmes.
It was developed jointly with the United Nations Development Programme (UNPD) through the Peru Institute for Liberty and Democracy (ILD). Mr Clinton leaves Accra tomorrow for Abuja, Nigeria.