NPP man cries foul over demolition of clinic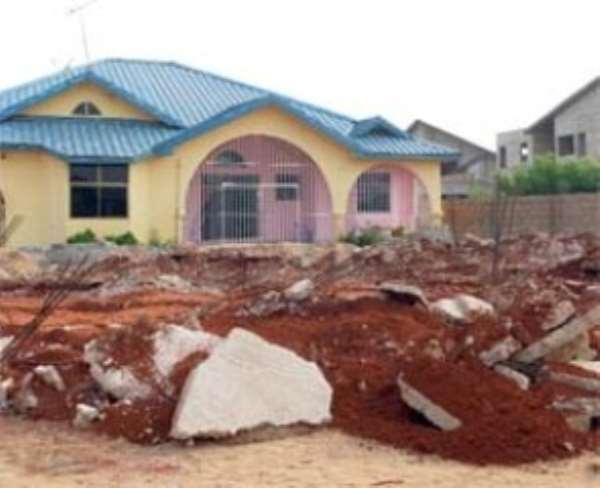 A sympathizer of the New Patriotic Party (NPP) and resident of Manet Estate on the Spintex road in Accra, Joseph Boakye Danquah Jr, has described as illegal and unfortunate an action of a task force team from the Ledzokuku-Krowor Municipal Assembly which pulled down a clinic and a pharmacy shop he was constructing in front of his house.
Mr. Danquah Jr told DAILY GUIDE that he believed the task force team specifically ignored other structures which were on the same line as his and pulled down a clinic and pharmacy he was building for residents of the area, because he was a sympathizer of the NPP.
Taking DAILY GUIDE round the demolished structure, Mr. Danquah explained that after living abroad for some time, he decided to return home where he could contribute to the development of his locality, adding that he was motivated to build the clinic because an expectant mother died in front of his house before she could be rushed to the hospital.
"You see, this was the exact spot (pointing to a spot in front of his house) where the woman died before a car could arrive to send her to the hospital," he claimed.
The demolished structure was meant to be a clinic with dispensing rooms and a pharmacy to be handed over to the Ministry of Health for the use of residents.
He observed that it was unfortunate that certain persons in government were looking at things with a political lens, adding that he obtained building permits for the structures about a year ago and therefore did not understand why the task force had to pull the structure down.
He added that what was surprising about the whole thing was the fact that the Municipal Chief Executive for the area, Daniel Amartey Mensah, was well aware of his intention to put up the structures.
He said the task force, some time ago, notified him by writing on a wall to stop work on the structures but they never came back until their visit to his site on Saturday, questioning the rationale behind their action when they failed to ask him for his building permit.
"You don't expect me to do things that are considered illegal. I got building permits for these structures about a year ago after which I mobilized funds to start them only for these people to come and demolish everything here," Mr. Danquah Jr intimated.
He also disclosed that he had spent over GH¢ 46,000 on the two structures prior to their demolition, emphasizing that the action of the taskforce was illegal and uncalled.
Mr. Danquah Jr said he has in his possession a building permit for the structures; therefore, he is readying himself for the law court.
When this paper contacted Hon. Daniel Amartey Mensah for his side of the story, he denied that the structures were demolished because Mr. Danquah Jr was an NPP sympathizer, explaining that it was carried out because the structures and others which were demolished were situated in an area where building was permitted.
He continued that he personally went to Mr. Danquah's house some time ago and met some young men who were undertaking some construction work at the site.
According to him, he handed his call card to them and asked that it should be given to Mr. Danquah to call him for a discussion on the issue.
The MCE remarked that later, Mr. Danquah came over to his office where he (Mr. Mensah) requested the building permit. He noted that Mr. Danquah explained to him that the permits were at his hometown and would produce them later, which he did not.
"What we have done is not illegal. The area where the buildings were sitting are places where no one is supposed to build. That is why we demolished those ones and others which we have served them with notice," he said.
Asked if he was aware that Mr. Danquah was readying to meet his outfit in court, Mr. Mensah remarked that he was, adding that the assembly was equally ready to meet him in court.