Jacob Zuma's 'love child' sparks political row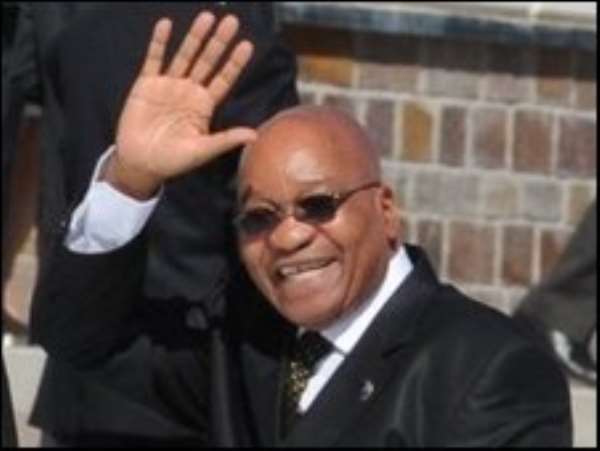 Jacob Zuma

South Africa's main opposition party has accused the country's president of contradicting the government's message on HIV/Aids prevention.
The Democratic Alliance issued a statement after claims that Jacob Zuma had fathered a child out of wedlock last year.
There has been no comment from the woman, Sonono Khoza, Mr Zuma, or his party, the ANC.
Mr Zuma married for the fifth time earlier this year.
Although he is thought to have at least 20 children, Mr Zuma has always refused to say exactly how many offspring he has fathered.
It is not surprising that, so far, neither the ANC nor the government have commented on the story, splashed across the front page of South Africa's Sunday Times newspaper.
Allegations
The newspaper alleges that a girl was born to Mr Zuma and a woman called Sonono Khoza last October.
Ms Khoza is 39 years old and works for a bank.
She has a famous father - Irvin Khoza is a friend of Mr Zuma and, as chairman of the World Cup Organising Committee, is one of the most powerful men in South African football.
The president's many supporters will no doubt say this is a private matter.
But, if true, it is not the first time that Mr Zuma's actions have directly contradicted the government's HIV/Aids policy.
In 2006, while being acquitted of rape, Mr Zuma admitted that he had made a mistake by having unprotected sex.
The Democratic Alliance, South Africa's largest opposition party, said the latest allegations showed the president undermining the struggle against AIDS by having unprotected sex with multiple partners.
Mr Zuma's colourful private life is never far from the headlines.
Earlier this month, he married for the fifth time - with Thobeka Mabhija becoming one of three current wives.
Polygamy is permitted in South African law and is regarded as an important part of Zulu culture.