Asantehene warns chief to quit active party politics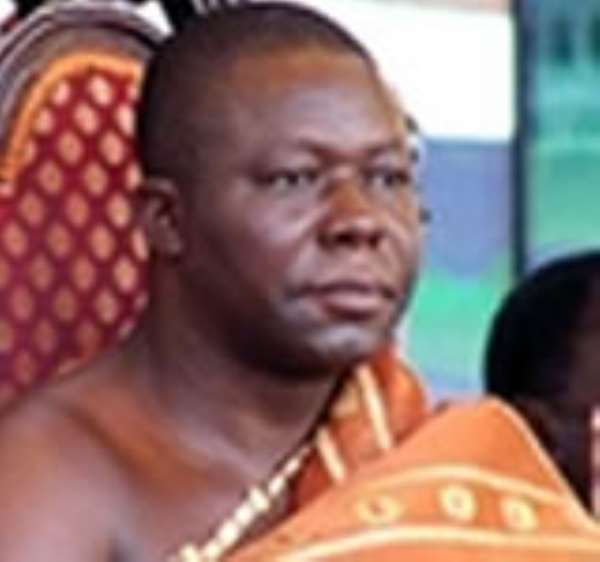 Asantehene, Otumfuo Osei Tutu II

The Asantehene, Otumfuo Osei Tutu II, has warned a chief in the Ashanti Region to quit active party politics or abdicate his stool.
According to Asantehene, he had been made aware that Nana Sarfo Agyekum II, who is the Aduanahene of Kumawu, was deeply involved in the activities of the New Patriotic Party (NPP) in Kumawu, and said he would not tolerate such behaviour in his domain.
The 4th Republican Constitution prevents chiefs from engaging in active party politics.

"You were even part of a group of NPP people in the area who went to court on a matter involving the party," he said, and warned him to immediately back out of political activities.
Otumfuo gave the warning when parties to the Kumawu chieftaincy dispute appeared before the Asanteman Council at the Manhyia Palace last Monday.
A chieftaincy dispute that arose in the area after the death of the Omanhene, Barima Asumadu Sakyi in 2007, is tearing the area apart, and had also created an uneasy calm in the otherwise peaceful area.
At the Asanteman Council meeting, Asantehene ordered the parties in the dispute to withdraw the matter from court for settlement at the Asanteman Council.
He told the gathering that he did not want to see chieftaincy matters in his area sent to courts, because avenues had been made available at Manhyia for people to seek redress.

Otumfuo dismissed allegations that he was supporting the Queen of Kumawu, Nana Serwaa Amponsah II, in the dispute.
"People have been spreading all manner of stories about me on this woman, but I know nothing about her," Otumfuo explained.

He promised to ensure the expeditious settlement of the issue when it was brought out of court.