JJ`s `Team A` takes over gov`t... As Mills gives in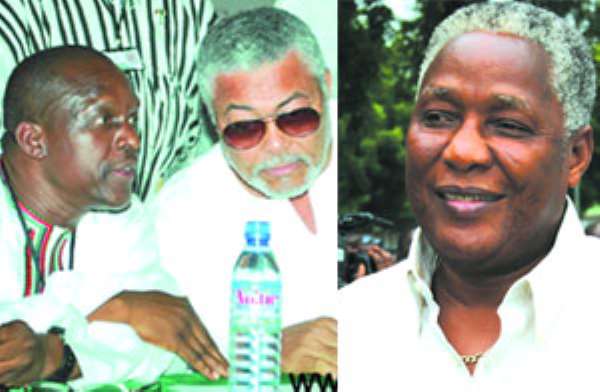 President John Evans Atta Mills has made his much anticipated cabinet reshuffle, bringing on the Majority Leader in Parliament, Algban Bagbin, and Mr. Enoch Teye Mensah, Member of Parliament (MP) for Ningo-Prampram, who are perceived as 'Rawlings boys' into his government.
The two replace Albert Abongo and Amannor Kwao, as ministers of Water Resources, Works and Housing and Employment and Social Welfare respectively.
As anticipated, Mr. Cletus Avoka, Minister of the Interior, whose appointment generated a furore among some ethnic groups in the Upper East Region, has been dropped.
A statement signed by the Presidential Spokesperson, Mahama Ayariga, who has been nominated for the position of deputy Minister for Trade and Industry, yesterday said the Minister of Tourism, Juliana Azumah Mensah, moves to the Ministry of Women and Children's Affairs, while Akua Sena Dansua has been given an arduous task, as the new Minister for Youth and Sports, one of the most controversial and difficult ministries to deal with.
Former deputy Minister of Justice and Attorney General in the past Rawlings government, Mr. Martin Amidu, has also been nominated for the position of Minister of the Interior, replacing Cletus Avoka, while John Tia goes to replace Mrs. Zita Okaikoi, whose reshuffle has long been expected at the Ministry of Information.
Zita, on the other hand, goes to replace Mrs. Azumah Mensah at the Tourism Ministry, as Moses Magbenba takes over from Stephen S. Nanyina as Northern Regional Minister designate.
The deputy Minister of Trade and Industry, John Gyetuah, also moves to the Office of the President as Minister of State designate, whilst Inusah Abdulai Fuseini replaces Kwabena Donkor as deputy Minister for Energy designate.
Mr. Nasamu Asabigi, a new face, has also been made the deputy Minister designate for the Northern Region.
The statement further said Cletus Avoka and Rashid Pelpuo are to be reassigned, while Alhaji Iddi Saani is to be replaced as the deputy Minister for Water Resources, Works and Housing.
Meanwhile, communications expert, Sulemana Braimah, has criticised the appointment of John Tia to the Information Ministry, since according to him, the nature of the ministry was such that it needs someone who will give it full concentration.
Though John Tia holds a Diploma in Journalism from the Ghana Institute of Journalism (GIJ), he wonders how he will combine his duties with his role as a Member of Parliament.