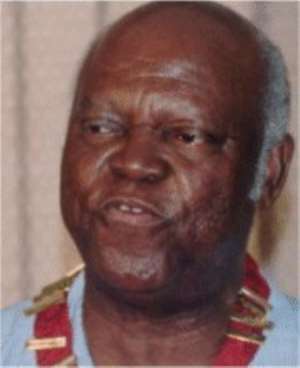 GHANA Football Association (GFA) chairman Ben Koufie and retired referee L. O. Laryea earned CAF Standing Committee membership when the continental football governing body (CAF) announced radical changes to reflect its new vision in the coming years.
Ben Koufie's appointment to the Technical Committee of CAF, is seen as a fulfilment of a promise made last January in Bamako for Mr Koufie to withdraw his candidature from the executive Committee election.
He joins colleague Ghanaian C. K. Gyamfi and 13 others from all over the continent on the committee.
Mr L. O. Laryea, however, takes over from Major (rtd) George Lamptey who has been dropped from the six-member Referees Committee.
Observers see the shake-up as a move by CAF strongman, Issa Hayatou, to rid the confederation of elements opposed to his autocracy. That view is founded in what is seen as the real target of Hayatou's hatchet — the Football Committee — from where two of Africa's greatest players have been dropped.
The two players are Ghana's Abedi Pele and Cameroun's Roger Milla who were at the forefront of the campaign that returned Mr Sepp Blater to the presidency of world football governing body, FIFA. Issa was the loser in the FIFA elections held in June.
Nevertheless, Ghana earned a respectable quota of six on the various committees.
Other Ghanaians who retained their places include Alhaji M.N.D. Jawula, a former GFA chairman, on the CAF Inter-Clubs competition and former FA Secretary, W. K. Agra, on the Nations Cup Organising Committee.
The other new Ghanaian entrant, apart from Mr Koufie and Mr L. O. Laryea, is Mr Kojo Annan, the son of the UN Secretary-General, to the Sponsorship and Promotions Committee of CAF.