January 25, 2010
|
Press Release
upcoming exhibition of James Barnor's Photography at Harvard University's WEB DuBois Institute starting on Thursday, January 28th, 2010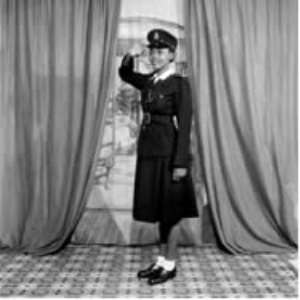 EVER YOUNG: JAMES BARNOR
Street and Studio Photography
Rudenstine Gallery, W.E.B. Du Bois Institute,
Harvard University
28 January – 26 May 2010
Opening reception: starts at 6pm in the gallery.
http://dubois.fas.harvard.edu/rudenstine-gallery
104 Mount Auburn Street, 3R
Cambridge, MA 02138
Phone: 617.495.8508
Autograph ABP and the W.E.B. Du Bois Institute jointly present the first exhibition in the US of James Barnor's archive of photographs.
Barnor's archive was produced during a career spanning more than sixty years. It features street and studio portraits with elaborate backdrops, glamour shoots in glorious colour, and social documentary images from the late 1940s to the 1970s depicting a burgeoning modernity as the Gold Coast becomes Ghana.
Covering a remarkable period in history, it bridges continents and photographic genres, creating a transatlantic narrative marked by his passionate interest in people and cultures. Through the medium of portraiture, Barnor's photographs represent societies in transition: Ghana moving towards its independence and London becoming a cosmopolitan, multicultural metropolis.
In the early 1950s, Barnor's photographic studio Ever Young was visited by civil servants and dignitaries, performance artists and newly-weds. While taking assignments for Drum magazine, Barnor documented the fashion style of 1960s swinging London and captured intimate moments of luminaries such as Kwame Nkrumah; boxing champion Roy Ankrah, aka
the "Black Flash"; Mike Eghan, broadcaster for the BBC Africa Service; and Muhammed Ali preparing for a fight at London's Earl's Court in 1966.
James Barnor was born in Accra, Ghana, in 1929. He started his own photographic practice in a makeshift street studio in Jamestown, and from the early 1950s operated Ever Young Studio, while working for The Daily Graphic newspaper and Drum magazine. He came to England in December 1959 to study at Medway College of Art in Rochester, Kent, and worked as a photographer and technician before returning home in 1970 to set up colour processing facilities in Ghana. During the next 24 years, he supplemented his freelance work with employment by the American Embassy and Ghanaian government agencies.
In 1994, he returned to London, where he currently lives.
* * *
This exhibition is closely linked to the establishment of Autograph ABP's Archive and Research Centre for Culturally Diverse Photography (opening in Spring 2011) at Rivington Place, London and emerged as a direct result of archival research supported by the UK Heritage Lottery Fund.