Tragedies In Family Relationships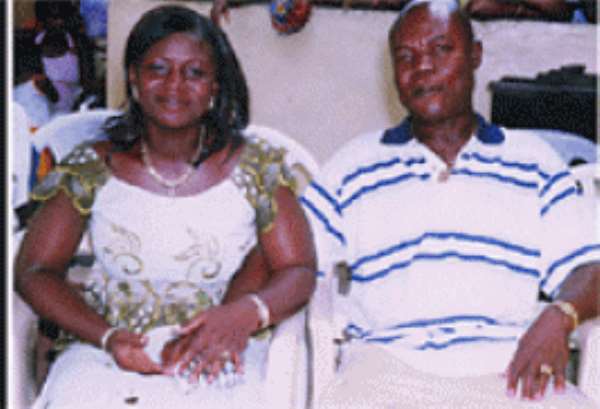 Behind the smiles of the late Florence and Kwadwo was a waiting tragedy
The equation itself was a non-starter. It did not add up; not even with a ready reckoner. So why then would a parent give consent to a man old enough to be his oldest uncle to marry his daughter?
Do parents never consider compatibility and the happiness of their children, particularly the girls, before they sign them off into marriages? Are young ladies so driven by money and other material things that they mortgage their long-term happiness and, indeed, their future when it comes to selecting a husband?
Another disturbing family tragedy broke the headlines last week. A 25-year-old woman was stabbed to death by her 60-year-old husband who then hanged himself, leaving behind two very young children aged five and two. The father of the deceased woman who was left with the care of the two children at the time of the incident is said to be 46 years old. Is anybody doing some arithmetic here?
According to the pathetic story published on the front page of the Daily Graphic last Thursday, the grandfather, who lives in the same vicinity as the late couple, admitted that all was not rosy in the marriage since the man suspected his wife to be engaging in extra-marital affairs.
We are told that the relationship must have developed worrying cracks when the husband allegedly denied responsibility for the wife's pregnancy and, therefore, she had to carry out an abortion.
So, at this point as one begins to add up and strike out age differences, one cannot help but make some inferences here. With an age difference of 35 years between a husband and wife, certainly incompatibility, petty jealousies and insecurity were bound to set in at some stage in the marriage.
But assuming that all was good at the beginning, the moment deterioration set in, the case should have been tackled with all the seriousness that it deserved and the issue should not have been left to have developed to the state it got to last week.
Assuming that the woman was seeing a younger man in the course of the marriage, should that have driven a man who had close access to his in-laws to have hatched such a diabolical plan? At least the worst they could have done was to dissolve the marriage.
We are told in the story that the man sent his two children earlier in the day to his father-in-law with the excuse that the wife had abandoned the children and left the house. The father-in-law, now saddled with the problem of caring for the two young children, at least for the time being, must be asking himself many questions and wondering why things happened the way they did.
He is not alone in that line of thinking. The many questions I tossed in my mind since reading that front page story last Thursday drove me to search for answers (if there are any), as to why such a tragedy would happen in a marriage relationship, especially when the woman's parents lived close by. They could have played a key role in ironing out the differences.
My mind strayed to the Domestic Violence and Victims Support Unit (DOVVSU). I spent close to one hour last Friday at one of the DOVVSU offices in Accra seeking answers and also gathering information on why there were so many tragedies in family relationships and what had led to this.
I came out of DOVVSU with even more questions than answers. Seeing the crowds lined up in the small corridors and offices of the Ministries branch of DOVVSU got me confused. These were people who had come there to seek redress for one domestic problem or another.
Clearly, the problem of domestic violence is a huge one, considering the fact that there are many more out there that do not report their cases and continue to endure pain in a marital relationship which is supposed to give them comfort and happiness.
According to a monthly statistics that an officer at the DOVVSU office kindly shared with me, assault and threats of death or harm in relationships topped the list of 29 offences that are frequently reported. Other offences on the list with high incidence include defilement, rape, attempted rape, offensive conduct and failing to supply (refusing to take care of a child).
From the data that I saw, 2,194 cases of assault and 610 cases of threat of death/harm were recorded over the 11-month period (January to November 2009). This meant that out of the five or so DOVVSU offices in Accra, the Ministries outfit alone recorded six cases of assault in relationships each day while a little over 1.5 cases of threat of death or harm were also reported.
Going further from there, most of the offences, as serious as they may be, are just abandoned after they are initially reported to DOVVSU because the complainants refuse to pursue the matter after elders from both families sit down and go into arbitration.
Sometimes, pastors and church elders intervene and cases are "amicably" settled. Other times, cases that come before DOVVSU are abandoned by complainants of poverty. Although there would be visible signs of injury after an assault, people do not have the resources to pay for medical reports which are crucial evidence for court prosecution. There are also instances when DOVVSU is not able to follow up on cases because telephone numbers and home addresses given are found to be non-existent. My question is, should the law on domestic violence not consider some of these shortfalls?
What is even more disturbing is the fact that although incompatibility in relationships exists in numbers and complaints come before the authorities on daily basis, there is not much the state can do to assist those in abusive relationships.
Sad as it may be, most of the complainants who go to DOVVSU go back to their marital homes and receive more threats, harm, and abuses and sometimes even death, simply because there are no shelters for the state to accommodate those who are at risk. At best such complainants are taken through a series of counselling and the lucky ones move in with relatives. That is about it.
We live in dangerous times when the most sacred institution – marriage – is seriously under attack. Intolerance and selfishness is fast creeping into relationships even in cases where people have sworn to be each other's keeper until death takes them away.
Unfortunately, society has become helpless in the midst of these challenges and looks on unconcerned as tragedies unfold in our faces. As to what is failing, we are fortunate to have the law on domestic violence in place. What is left is, perhaps, adequate state empowerment and the resources for the relevant institutions to deal with violent domestic offences before they are dragged into the unfortunate. The innocent children are always the worse off.
Share Your Thoughts on this article Name Email Location Comments Graphic Ghana may edit your comments and not all comments will be published