Killer Mum Died Of Poison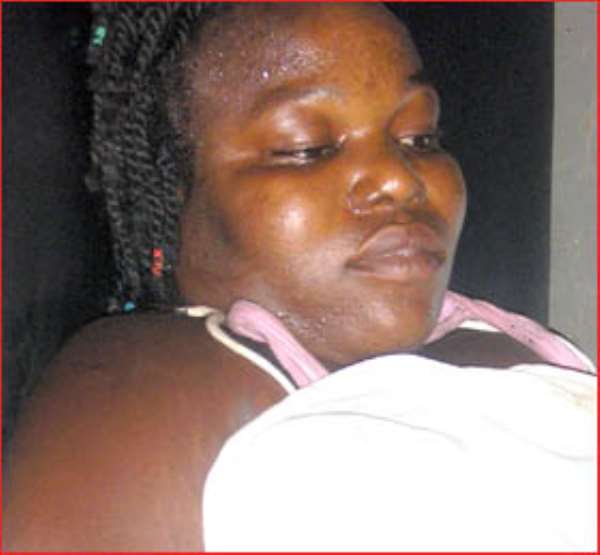 Georgina Akweley Pipson
The police have confirmed that Georgina Akweley Pipson, 33, who murdered her five children and later died at the police hospital while receiving treatment there, died of poison.
The Director of the hospital, DCOP Dr. Godfred Asiamah, told DAILY GUIDE on Wednesday, January 13, that the autopsy report showed that Akweley had died of poison but could not establish whether it was parazone, a corrosive liquid detergent alleged to have been used in the murderous act.
Dr. Asiamah indicated that samples from some parts of her body as well as that of the five children have been sent to the Ghana Standards Board (GSB) for further examination to ascertain which type of poison she had used.
Georgina, who allegedly poisoned her five children, Kwaku Asante 11, Nana Yaw Asante, 9, Angela Asante, 6, Kofi Asante, 4, Esi Asante, one and half years, and absconded was later found unconscious and arrested at a mechanic workshop at Madina on January 6, 2010.
She was sent to the Police Hospital under police guard and was resuscitated.
According to Dr. Asiamah, the suspect later passed on at about 4:30am on January 7, 2010, halting the hospital's decision to transfer her to the Pantang Mental Hospital that morning for further medical probing.
The DAILY GUIDE team that visited the hospital however observed white foam on the mouth of Georgina as she bled from her nose, indicating she might have drunk the same poison she gave to the five children in her murderous rage.
According to Tawiah Pipson, a sister of Georgina, the suspect has been a long time mental patient at the Pantang Mental Hospital, an assertion that the hospital has since confirmed.
By Rocklyn Antonio