Guinean coup leader Camara called to return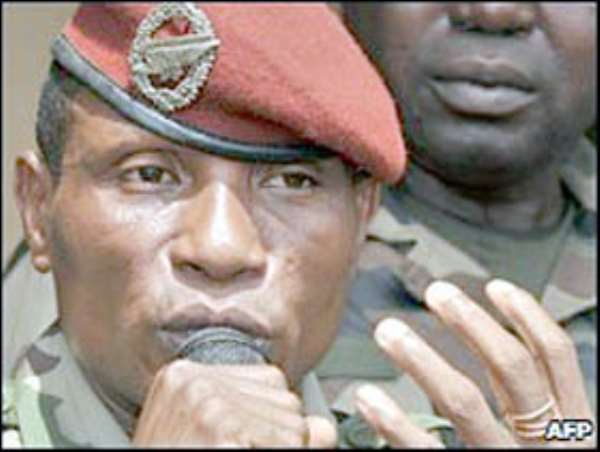 Capt Moussa Dadis Camara

Senior Guinean military officials have called for the return to Guinea of the country's injured coup leader, Capt Moussa Dadis Camara.
Capt Camara arrived in Burkina Faso on Tuesday from Morocco, where he was being treated after being shot in the head in an assassination attempt.
The military statement appeared to contradict earlier comments by Sekouba Konate, who has taken charge in Guinea.
Since taking over, he has said he opposes Capt Camara's return.
In their statement, military rulers appeared to reject concerns that Capt Camara's return to Guinea could block the restoration to civilian rule promised by Gen Konate.
They said that Gen Konate, who has been holding talks with Capt Camara in Burkina Faso's capital, Ouagadougou, should fly back with him.
Protest crackdown
"The collective members of [the junta] and the chiefs of staff of the armies of air, sea and land stand in solidarity behind Gen Sekouba Konate's call for a rapid transition," said the statement read on state TV and radio.
"But we encourage and ask for the quick return of Capt Moussa Dadis Camara to Conakry. We are recommending that Gen Sekouba Konate bring him back."
The permanent secretary of the junta, Col Moussa Keita, arrived in Ouagadougou on Thursday with other senior junta officials, the Associated Press news agency reported.
"We have been sent by the sovereign and independent people of Guinea," Col Keita said. "We have come to bring back our president."
Capt Camara seized power in a coup in December 2008 after the death of long-time ruler Lansana Conte.
At first he promised a return to civilian rule, but soon dropped hints that he would stand for president himself.
That led to a pro-democracy rally on 28 September in the capital, Conakry, at which rights groups say more than 150 people were killed when the military opened fire.
A recent UN report on the stadium massacre held Capt Camara responsible for the brutal suppression.
Capt Camara was shot by his former aide-de-camp in an assassination attempt on 3 December.
Gen Konate has been in charge for the last six weeks while the coup leader was receiving medical treatment in Rabat, and has already opened discussions with the opposition.
Capt Camara held talks for a second day with Gen Konate and Burkinabe President Blaise Compaore on Thursday.
Burkina Faso is leading mediation over Guinea, and there are reports that Capt Camara is being held there against his will.