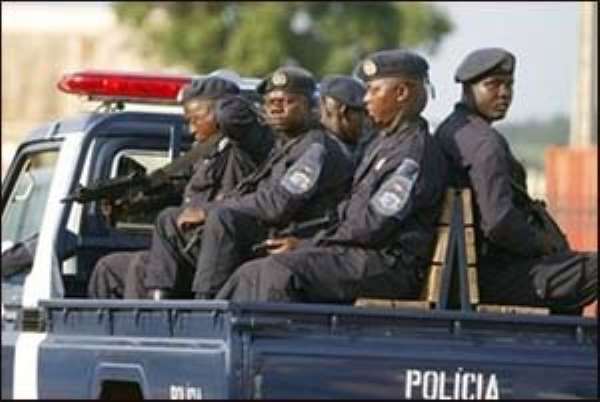 Angolan police escorts the bus carrying Ghana's soccer team
A pro-independence leader in northern Angola says the attack on Togo's soccer team on its way to an international tournament was sparked by frustration that could lead to more violence.
In a telephone interview Sunday, Tiburcio Tati Tchingobo, minister of defense in the self-declared Federal State of Cabinda, denied responsibility for the Jan. 8 shooting that killed an assistant coach and spokesman for the Togolese team and the Angolan bus driver.
He says his group had no objection to the African Cup of Nations tournament, set to start later Sunday, but he was concerned about possible further attacks.
"The tournament can go on, but we are worried about security," Tchingobo said.
Togo's team said Sunday they are withdrawing from the tournament for security reasons.
Meanwhile, Togo's government is sticking by its decision to recall the national football team from the African Nations Cup after a deadly attack, despite the players' wish to play, a government minister said Sunday.
"The government is maintaining its decision to call the team back home," administration minister and government spokesman Pascal Bodjona told AFP.
Hours before the competition starts Sunday, players said they wanted to stay in Angola.
"In memory of the dead, the national team has decided to play in the African Nations Cup," Thomas Dossevi, who plays for French side Nantes, told AFP.
But Bodjona said "the best thing to do is not to stay".
"People are dead. The goalkeeper (Kodjovi) Obilale is in intensive care," he said.
Hooded gunmen opened fire on the teams' buses as they crossed into the restive Angolan enclave of Cabinda, killing the assistant coach and squad spokesman.
The attack was claimed by a faction of the Front for the Liberation of the Enclave of Cabinda (FLEC) separatist group embroiled in a struggle for independence in the oil-rich territory. AP