NDC has disappointed voters -Nuworsu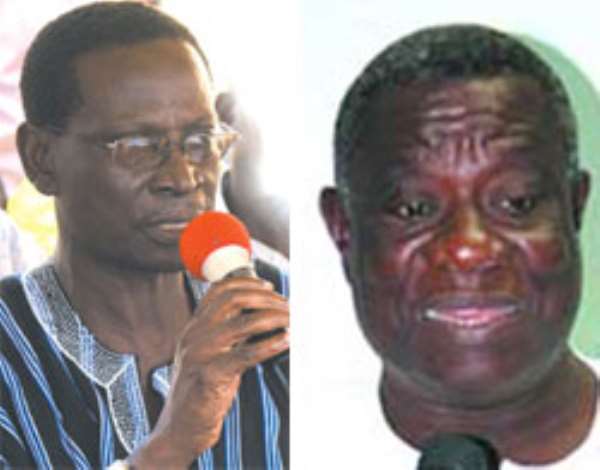 The Volta Regional Chairman of the New Patriotic Party (NPP), Mr. Ken-Wuud Nuworsu has told The Chronicle that that the ruling National Democratic Congress (NDC) has failed to leave up to expectation, and therefore called on voters in the region not to vote en bloc for the party again, but try other parties like the New Patriotic Party (NPP).
He said the NDC has brought no new ideas that would help in addressing the developmental challenges confronting the country, such as job creation as promised in their manifesto. The Volta NPP Chairman noted that the only mark that the NDC had made in the Volta region within its first year of governance is the dismissal of people who were employed under the various jobs created by the Kuffuor led NPP administration.
Mr. Nuworsu mentioned specifically that the NDC on assumption of office started dismissing people in gainful employment, such as the School Feeding Programme, noting that the government had so far demonstrated incompetence in job creation, because instead of expanding on the jobs already created by the NPP, it decided to rather deepen the unemployment situation by dismissing those employed. "After all, why dismiss people who have been provided gainful employment when the government cannot bring new ideas that will create more jobs to absorb some of the unemployed people in the country".
Mr. Nuworsu said the Capitation Grant, National Health Insurance Scheme and Youth Employment Programme among others, were concrete legacy left behind by the NPP within eight years, which must be continued by the NDC government. He said the incompetence demonstrated by the NDC was so clear to the people and motivating enough for the NPP to prepare adequately to wrestle power from the NDC to enable it continue with their social intervention programmes that would help improve on the living standard of the people, as demonstrated in Kuffuor's administration.
Mr. Nuworsu said as part of efforts in the region towards election 2012, the regional executives were making conscious efforts to withdraw court cases in the Biakoye and the Krachi-East constituencies to ensure a stable region to embark on serious party activities. He said so far, the parties involved had shown commitment in that direction noting that when the cases are successful withdrawn from the court and settled amicably, would set the tone for party activities. The Regional Chairman of the NPP explained that at the moment, the two constituencies did not participate in the constituency and the regional elections, a development that made it impossible for the two areas not to elect their executives to administer the affairs of the party at that level.
Mr. Nuworsu who described the region as an orphaned one in terms of parliamentarians, disclosed that the party would elect its parliamentary candidates early enough to prepare them adequately for the next general elections to enable the party to add some seats to the Nkwanta-North seat and win the 2012 election.