Calls for Nations Cup to be cancelled after gunfire attack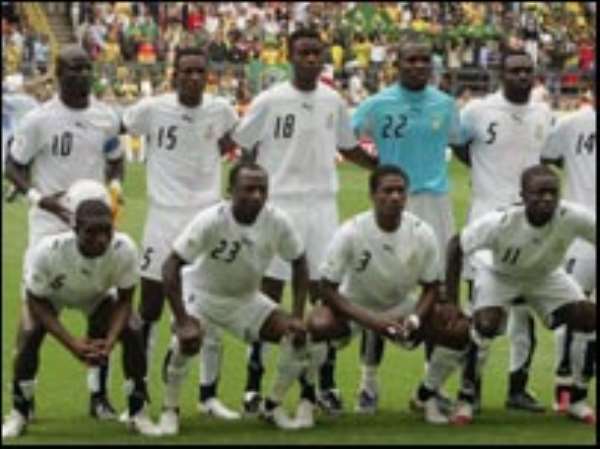 Ghana are playing in the Nations Cup
Calls are growing for Sunday's African Cup of Nations in Angola to be called off in the wake of a gunfire attack on the Togo national team which killed one person.
    The driver of the Togolese national team's bus is reported to been killed while six people including two footballers from the West Africa n nation were seriously injured.   Togolese players have called for their country to withdrawn from the tournament to be held in Angola which is just recovering from decades of war.   Claude Leroy, a former Cameroon and Ghana coach, said Africa n footballing authorities now had to decide whether to play the tournament.   "You have to ask the question. Football's just a game," Leroy told RMC.   "This is really serious and means that safety cannot be guaranteed. These local hotspots can be really dangerous. The CAF is going to have to take a decision on this crazy shooting."   Some of the players said they were inclined to pull out of the tournament following the violence.   Alaixys Romao felt Togo should not go ahead with the tournament.    "If we can boycott it, let's do it," Romao told French TV channel Infosport.   "It's just not on for us to be shot at because of a football match. All I can think about is stopping this competition and going home."   Midfielder Thomas Dossevi agreed: "We don't want to play this Africa n Cup of Nations," he told Infosport.   "We're thinking about our teammates - to be hit by bullets when you've come to play football is disgusting."   The 16-team Africa n championship starts Sunday in Angola , with Togo due to play its opening match on Monday against Ghana in Cabinda.   Before leaving for the tournament, Adebayor was asked by British journalists whether he had any reservations about playing in the politically unstable Cabinda region of Angola .   "We were born in Africa so we know what it's about. Some people might be afraid which is normal, I can understand that.," the former Arsenal forward said.
"But I'm going back to Africa , to one of the countries on my continent, and I'm prepared for Cabinda. I will enjoy myself."   It was the second major gun attack on a sports team in less than a year.   Several players were injured and six policemen were killed when gunmen opened fire on the Sri Lankan cricket team's bus in Lahore, Pakistan, in March 2009.   The violence also comes five months before the World Cup in South Africa , the first to be held on the continent.   The biggest concern leading to that 32-nation tournament has been the security situation in South Africa , a country with one of the world's highest crime rates.   Togo , which played at the 2006 World Cup, did not qualify for this year's tournament in South Africa .