Ghana-Togo Nations Cup clash in doubt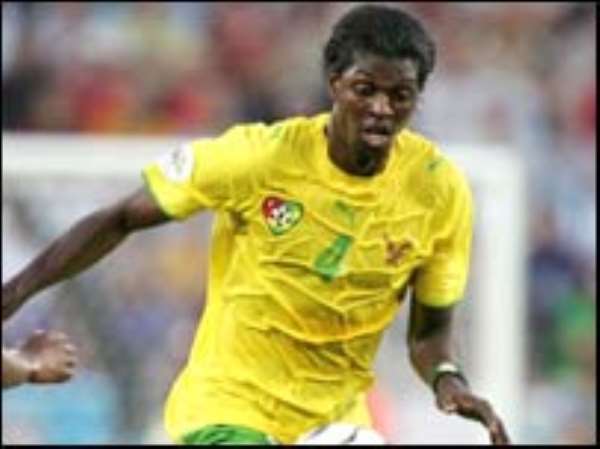 Adebayor was in the squad
Ghana's opening African Cup of Nations clash with Togo on Monday is in doubt after Togolese players expressed a wish not to play the tournament in a wake of a gunfire attack on their squad on Friday.
New wires are reporting that a member of the Togolese delation was killed while four players suffered serious injuries after their team bus was attached by gunfire from rebels near Cabinda where the Black Stars are based for the tournament in Angola.
 
Ghana are scheduled to get their campaign underway on Monday against Togo, however the Hawks midfielder Thomas Dossevi said the players had already expressed a wish not to play the tournament.
 
"We don't feel much like playing the CAN Cup. Our thoughts are with our friends, the injured," said Dossevi, of French second division side Nantes.
 
Dossevi named goalkeeper Kodjovi Obilale of French amateur side GSI Pontivy and defender Serge Akakpo of Romanian outfit Vaslui as
among the injured.
 
He added: "We had just crossed the border (between Congo and Cabinda, where Togo are to play their Group B matches). We had
filled in the border formalities and were surrounded by police.
 
"Everything was fine. Then there was a powerful burst of gunfire.
     
"Everyone dived under the seats and the police fired back.
"It felt like war had broken out. It's shocking. When we got off the bus we were asking ourselves what was up."
 
Akakpo, he said, "took a bullet in the back."
 
"The official in charge of communications also stopped a bullet - he lost a lot of blood," Dossevi added.
 
Of Obilale "there is no news" save for the fact that "he was bleeding a lot."
 
"Getting shot on your way to a football match is just disgusting," said Dossevi, who added he believed that a goalkeeping coach had also been hurt.
 
Togo, whose skipper is Manchester City forward Emmanuel Adebayor, were set to face Ghana in Cabinda on Monday.
 
Cabinda had been expected to deploy heavy security at its Chiazi stadium.
 
Chelsea stars Michael Essien of Ghana and Ivory Coast's Didier Drogba are due to play the group stages there, one of four Cup venues in the country, but not all the security will be for the Premier League stars.
 
Oil-rich Cabinda, separated from the rest of Angola by the Democratic Republic of Congo, has been embroiled in a long-running
independence struggle but is scheduled to host seven Nations Cup matches this month.
 
The conflict in the region officially ended in a 2006 deal with the Front for the Liberation of the Enclave of Cabinda (FLEC).
     
FLEC, however, has made several media claims in recent months about attacks on the military and foreign construction and oil
workers based in the province.