The people should be the judges - Mills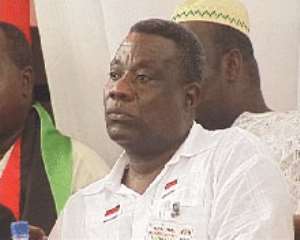 Professor Evans Atta Mills, former Vice President on Tuesday said the people should be the best judges on the performance of President Kufuor's administration.
He said, "it is at the end of President Kufuor's four-year term of office that it would be known whether he succeeded in prosecuting the agenda his party had set itself."
Prof. Mills was answering questions at a press conference in Accra where he declared his intention to contest the primaries for the flagbearership of the National Democratic Congress (NDC) as to how he would rate the performance of the New Patriotic Party (NPP), which has been in power for about 18 months now.
He said, "I will not make any sweeping statement to condemn nor give a praise. We should avoid sweeping condemnation of politicians. The NPP is prosecuting a certain agenda it set itself. It is when we take the totality of issues and avoid taking achievements in segments that we would be able to determine failure or success."
On the work of the National Reconciliation Commission, Prof Atta Mills, said he saw nothing wrong with the Commission's work and that it would be at the end of its work that one could judge it.
He said there was too much intolerance in the country and stressed the need to maintain dialogue between the ruling government and the opposition to move the country forward. He said the NDC chalked notable successes and failures and the party machinery would not hesitate to reconsider some of its strategies to get back power if it became necessary, adding that the issue of forging an alliance with other political parties might be considered after he got the nod.
Prof. Atta Mills said the choice of a running mate would be based on full consultation of the rank and file of the party and the selection would be based on excellence.
On allegations that Dr. Obed Asamoah, Chairman of the NDC was sponsoring Dr. Kwesi Botchwey, a former Finance and Economic Planning Minister for the NDC flagbearership, Prof Atta Mills registered his high regard for both Dr Asamoah Dr Botchwey and said that there was no evidence of sponsorship. Prof. Atta Mills, who was also the NDC presidential candidate in the year 2000 general elections, welcomed the open contest in the race for the party's presidential candidate.
He described Dr Botchwey as a "capable man" and said: "I am not going to tear at Dr. Botchwey in the contest for the flagbearership. We would rather pursue dialogue and join forces against our opponent."