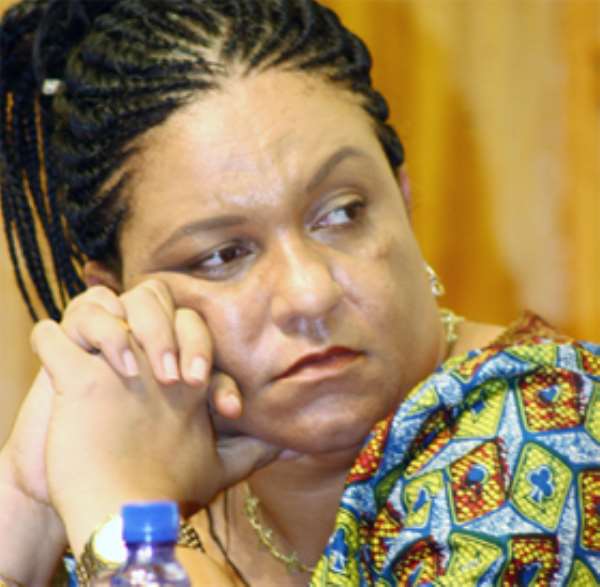 Hannah Tetteh - Minister of Trade
More Chinese companies continue to launch their presence in Ghana as they topped the list of firms registered in terms of Foreign Direct Investments (FDIs) in the country.
Though Chinese companies recorded the highest number of companies in the country in 2008, South African firms topped the list of countries with the largest value of investments in Ghana in 2009.
In recent times, Chinese companies have expressed interest in Ghana's oil, with China National Oil Corporation (CNOOC) being one of them.
The company presently has the support of the Ghana National Petroleum Corporation (GNPC) to buy Kosmos Energy's 30 percent share in the Jubilee Oilfield, which the American firm sold to Exxon Mobil.
In the first half of 2009, China invested about $552 million directly in Africa, raising China's direct investment in Africa to 81 percent compared to the same period in 2008.
In 2005, trade between the two countries was $76.9 million but it has increased over the years, with China benefitting significantly.
Ghana's exports to China totaled $25 million with imports of $93 million in the year 2000, but it grew to $32 million in 2003 with imports of $180 million.
In 2006, the figure increased to $39 million while imports surged to $504 million.
According to George Aboagye, the Chief Executive Officer (CEO) of the Ghana Investment Promotion Centre (GIPC), the FDI component of the estimated value of the companies registered during the period under review was GH¢339.32 million (90.69 percent) while the local component amounted to GH¢24.88 million (9.31percent).
He said the figure for the third quarter represented a significant increase, inching closer to Ghana's annual projected estimates of GH¢400 million, which is yet to be realised.
He mentioned that the GIPC during the third quarter of 2009, registered 83 new investments with a combined value of GH¢374.15 million, compared to 81 new investments that were registered in the second quarter valued at GH¢156.34 million.