Akufo-Addo ahead of Alan … Campaign team hums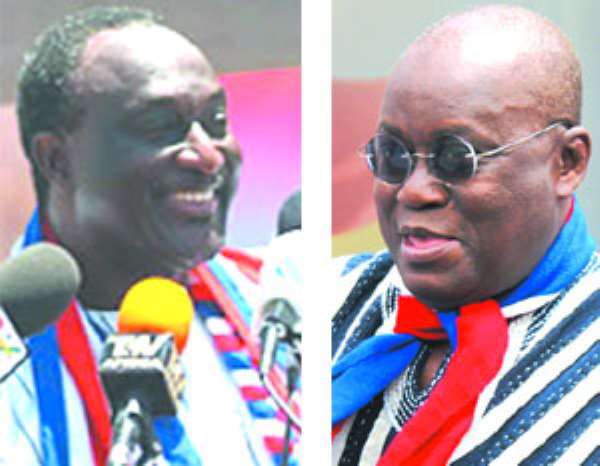 AN AIDE to Nana Addo Dankwah Akuffo-Addo, the 2008 presidential candidate of the New Patriotic Party (NPP), Mr. Abu Jinapor, has dismissed reports that his boss is losing grounds to Mr. Alan Kyerematen, a former Minister of Trade and Industry, as far as the ongoing regional executives elections of the party are concerned.
According to him, assuming without admitting that Alan was winning regional executives positions, it formed a microscopic percentage if juxtaposed against the constituency elections, in which Nana Addo has taken a commanding lead.
"Assuming, without admitting, that Alan's supporters are winning the regional positions, which of course is not the truth anyway, such positions represent only 0.0079 %, while Nana's would be pole ahead with 95%."
He continued: "There is no truth in the assertion that Alan is winning majority of the regional positions. It is rather the opposite. In any case, Nana Addo is not interested in factionalism, and is not ready to preside over a divided house, hence his decision not to support any candidate, even though most of them campaigned in his name."
Speaking to this paper in an interview, Nana Addo's aide continued: "It appears that there is general good will for Nana Addo, and he is not thinking of throwing his support behind an individual," he said.
Abu Jinapor, who punched holes in the assertions of a photo finish result between Akufo-Addo and Alan Kyerematen, noted that Nana Addo had deliberately chosen not to have candidates within the party, as far as the ongoing elections were concerned, adding that credible and authentic results coming from all regions, including constituencies across the nation, gave overwhelming support for Nana Addo.
He said due to the fact that able people were in favour of Nana Addo to lead the party in the 2012 general elections, all contestants have to campaign with Nana's name as a conduit to win power.
"The facts on the grounds from Western, Eastern, Central, Northern and Brong Ahafo regions and even Volta, which is perceived to be the region of Alan, majority positions have been won by Nana Addo."
According to him, his boss was of the view that the elections are not based on him as a person, but in the interest of the NPP.
In a related development, an NPP youth activist, Mr. Samuel Awuku, has taken issues with slates (candidates) within the party, who are deliberately trying to knock the heads of executives together, especially Nana Addo and Alan Kyerematen.
According to him, it was wrong for people to adopt that move in the party, saying, "It is not good for the party's cohesion. We need to discourage such development."
Believing that such assertions were being made by people he described as 'faceless,' he urged the rank and file of the party to condemn it.
Mr. Awuku contended that the slates and factionalism being introduced into the party was out of place. "We need to look beyond Nana Addo and Alan Kyerematen. The people are being elected into various offices by what they can do for the party, but not on personality basis," he said.
In addition, he said, his inclination was that Nana Addo was not enthused about the perceived slates being trumpeted in the public domain.
"The elections clearly prove that nobody can manipulate anyone. Once the person is elected, irrespective of the inclinations, the delegates believe that such an individual can contribute to the development of the party."