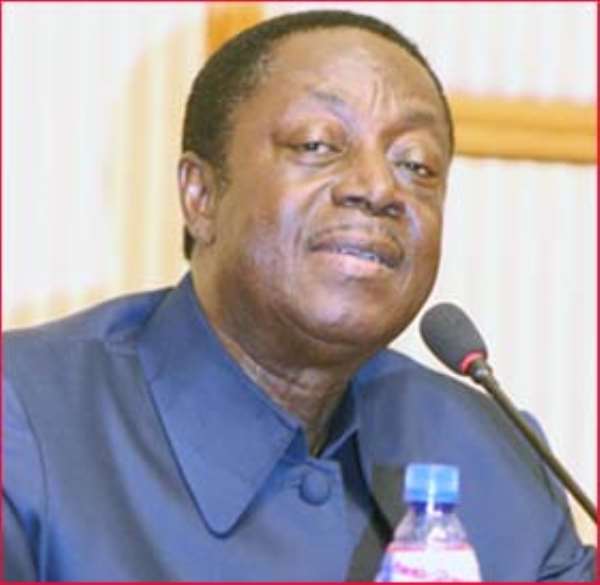 Dr Kwabena Duffuor - Finance Minister
he Government is making moves to hedge oil to prevent the nation from buying oil at higher prices when the price of the most important commodity rises on the world market.
Hedging is the process by the buyer places a contract to buy the commodity at a fixed price from the seller when there is an anticipation of a rise in the price of the commodity.
The measure helps to curtail shocks that rising oil prices present.
The policy would enable the Government to purchase crude oil at a pre-determined price.
Sources say Government would initiate the policy in March this year when crude oil is expected to sell at $90.
Oil sold at $80 a barrel yesterday for the first time since mid-November after Russia halted oil supplies to Belarus and on cold weather in the United States.
The bullish news and hopes of a recovery in the US economy allowed the oil market to lift prices by 78 percent last year, the biggest annual gain in a decade and also due to shrug off dollar strength.
CITY & BUSINESS GUIDE has gathered that some institutions, including Standard Chartered Bank, Stanbic, BNP Paribas, Shell Ghana and Ecobank Ghana would be consulted before the implementation of the policy.
According to analysts, oil is a volatile commodity and therefore its price can increase or reduced at anytime, hence making hedging a risky exercise.
In 2008, when oil prices started rising, the then Finance Minister, the late Kwadwo Baah Wiredu ruled out any possibility of hedging.
Even when calls were made by a former Deputy Minister of Finance, Moses Asaga and other petroleum experts for the nation to go into hedging oil, Mr Baah Wiredu said hedging was risky for the economy since the oil market was volatile.  
He said, "In international trade, you look at the volume of trade before doing comparison, hence you cannot use cocoa or gold revenue to balance crude."
However, some economists noted that hedging, which is a benchmark price protection strategy, had many negative impacts.
Economist Dr. Nii Noi Thompson confirmed that hedging was a risky business, adding that the minister should tread carefully since "he was controlling public resources." "Hedging is not the best solution but rather the conservation of energy," Dr. Thompson who is also the Executive Director of the Development Policy Institute stated.
By Charles Nixon Yeboah