NDC Chairman arrested For allegedly diverting insecticides meant for mass cocoa spraying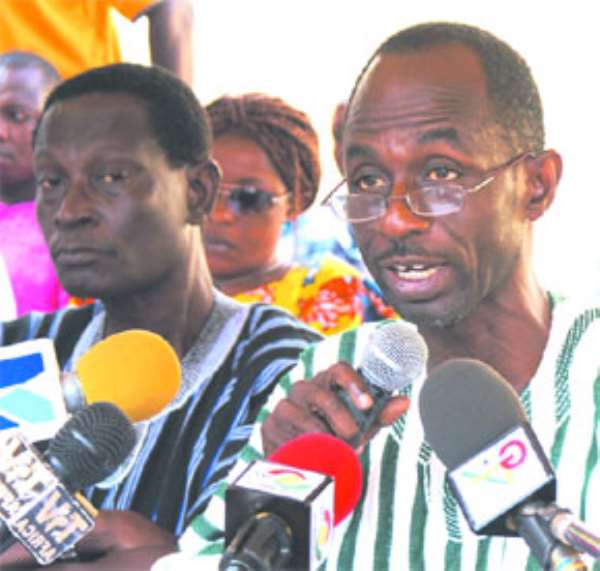 In an attempt to get rich quick through foul means, Dr. Elder Asamoah, Dormaa East Constituency first Vice Chairman of the ruling National Democratic Congress (NDC), has landed himself in trouble.
The Wamfie Police arrested Elder Asamoah, a government appointee from the Wamanafo Electoral Area, for allegedly selling cocoa spraying insecticides meant for cocoa farmers to private individuals.
This follows a report made to the police by the Constituency Chairman, Mr. Kwabena Adjei, that his Vice Chairman had secretly been selling the insecticides to private individuals.
In his report, the Chairman also alleged that his constituency first Vice Chairman had reportedly collected various sums of money totaling GH¢1,200 from of the people in the area, under the pretext of providing them with jobs as spraying gangs.
Mr. Kwabena Adjei confirmed the story when this reporter contacted him.
According to him, Elder Asamoah collected 50 boxes of spraying insecticides from the spraying gangs, and went ahead to collect an additional five boxes from the District Agric Officer, under the excuse of sending them to the District Chief Executive, who had requested for them, but after collecting the items, he diverted them. Chief Inspector Duodu, officer in charge of the Wamfie Police Station, also confirmed the arrest when The Chronicle contacted him.
According to him, the NDC Chairman for the Dormaa East Constituency, Mr. Kwabena Adjei, popularly called 'General', reported the matter officially to the police about the alleged furtive activities of his first Vice Chairman which had affected the smooth operation of the cocoa spraying exercise in the area.
Chief Inspector Duodu however said the constituency first vice chairman of the NDC was immediately released after his outfit had taken his statement, and that the police were still investigating the allegation.