Government to construct 2000 boreholes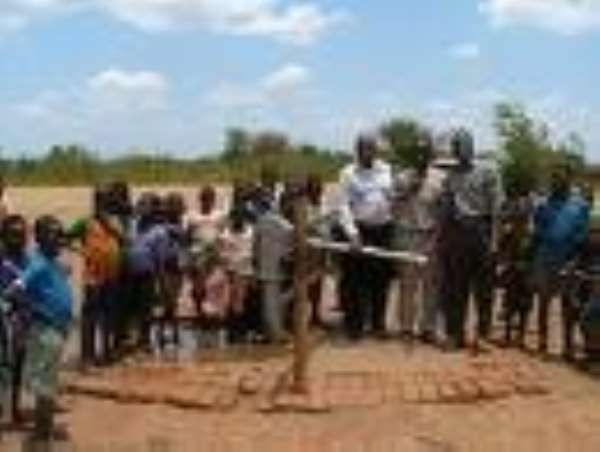 The Minister of Water Resources Works and Housing, Albert Abongo, has assured Ghanaians that government is committed to ensuring that development reaches  the rural communities in the country through the provision of portable drinking water and electricity.
In line with this, government as a matter of concern would construct 2000 boreholes throughout the country. Mr. Abongo gave the assurance at the annual Azambene Fire Festival celebrated by the chiefs and people of Bongo in the Bongo District of the Upper East Region.
The occasion which received a high turnout was on the theme: "Culture Re-Awakening to Promote Education, Sustainable Environment and Afforestation".
The occasion brought together government officials, divisional chiefs of the Bongo Traditional Area, dignitaries from Korea and China, heads of decentralized departments, as well as sons and daughters of Bongo both at home and abroad.
The annual Azambene festival is in commemoration of the defeat of Busasis by Asikulga and Awubigo descendants from Bongo. It is also in remembrance of the movement of their great fathers from Nalerigu into Bongo.
Mr. Abongo who commended the chiefs and people of the area for maintaining peace and order, expressed government's determination in ensuring that rural communities are provided with the needed logistics and infrastructure to help enhance their standard of living.
He disclosed that, government will from next year construct more boreholes in rural communities of which Bongo is a beneficiary community, adding that the Bongo-Bolgatanga trunk road and the Gorigo Bridge linking Bongo with Burkina-Faso would also be constructed in due time.
Mr. Abongo also hinted that government with support from Korean and Chinese investors will construct 200,000 housing units throughout the country to address the problem of accommodation for workers and individuals.
Mr. Abongo catalogued some interventional policies and programmes initiated by the government to alleviate the plight of people in the rural communities.
The District Chief Executive, Mr. Clement Akugre expressed his desire to make education his topmost priority in the district and charged parents to put premium in their wards education since it is the greatest legacy any parent can bequeath the child.
He hinted that the assembly, since his assumption of office has spent 28,456 Ghana cedis in sponsoring and assisting brilliant but needy students into the second cycle and tertiary institutions.
Also sponsorship packages have been provided for nursing trainees in Public Health and Clinical Nursing.
The Paramount Chief of the Bongo Traditional Area, Naba Salifu Aleemyaarum, called on the government to come out with pragmatic measures to tackle poverty in the area.
Naba Alemyaarum advised participants to cultivate the habit of tree planting to help addressed the global issue of climate change.
He appealed to NGOs, organisations and individuals to financially contribute to the Bongo Educational Endowment Fund to improve upon the standard of education in the area.