Illegal structures to give way in Ga South municipality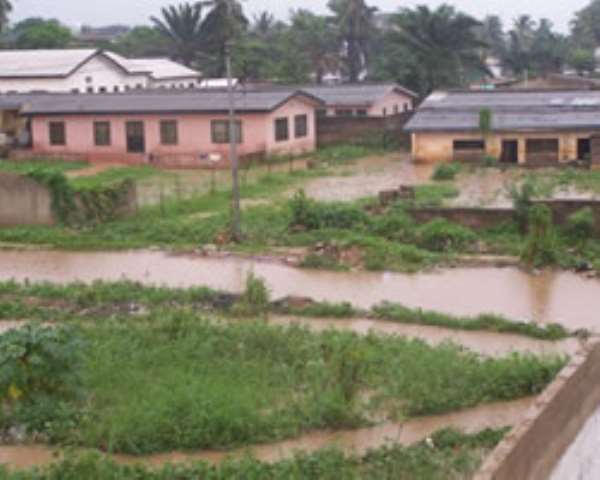 Unauthorised structures have caused flooding in many parts of the city during the raining season

One hundred and seventy illegal structures in the Ga South municipality have been earmarked for demolition.
The exercise, which will be carried out in collaboration with the National Security, is to ensure that structures that pose a danger to lives and property are cleared.
Areas to be affected include sites belonging to the Institute of Technical Supervision, the Odorgonno Senior High School, the Christian Methodist Senior High School, Tuba Irrigation, the Ghana Broadcasting Corporation, the Weija Dam area and structures lying within 150ft of the Lafa, Onyinase and Baley streams.
Mr Sheriff Otoo Dodoo, the Municipal Chief Executive, who said this during an ordinary meeting of the assembly in Accra, urged the assembly members, chiefs and landowners to ensure the development of the area.
Mr Dodoo said the high incidence of encroachment on spaces earmarked for social amenities such as roads, schools, markets and lorry parks, as well as the indiscriminate sale of land by some chiefs, was one of the factors which were stalling the development of the area.
He also attributed the problems to the preparation of illegal layouts of land by unlicensed surveyors and inadequate logistics for the Town and Country Planning Department to perform its functions effectively.
He said despite those problems, the assembly had developed a number of programmes and activities to address the setbacks.
He said it was taking steps to strengthen the works departments, adding that programmes were underway to rid the municipality of unauthorised structures.
Mr Dodoo urged the government to empower assemblies to enable them to exercise greater supervisory role over private contractors executing projects for the government.
.
He noted that the assemblies were better placed to monitor the activities of such contractors who worked in the communities.

Mr Dodoo said the assembly was not allowed to certify projects executed by the Local Government Ministry, whether those contractors did their work well and needed to be paid or not.
Furthermore, he said the assemblies must be allowed to decide on which contractors would manage waste in their various areas.

He said the major challenges facing the area were chieftaincy and land disputes, especially at Weija, Tuba, Oblogo, Oshieyie, Obom, Domibra and Bortitmor, which at times degenerated into violent confrontations that resulted in death and loss of properties.
On agriculture, he said the assembly had taken steps to acquire over 120 acres for agricultural purposes.
"The assembly is also collaborating with the Ghana Irrigation Development Authority (GIDA) to undertake a feasibility study in the Obom area for the possible construction of small irrigation facilities to ensure crop production all year round," he said.
Mr Dodoo announced that the assembly had benefited from a spot improvement of 14 kilometres of feeder roads at a cost of GH¢ 167,349.20 under the DANlDA funded Local Service and Governance Delivery Programme (LSGDP), adding that the assembly had also gained from a Ministry of Food and Agriculture assisted programme through the construction of l2km of feeder roads at a cost of GH¢720,000.
Credit: Daily Graphic