Kufuor consoles family of Dan Lartey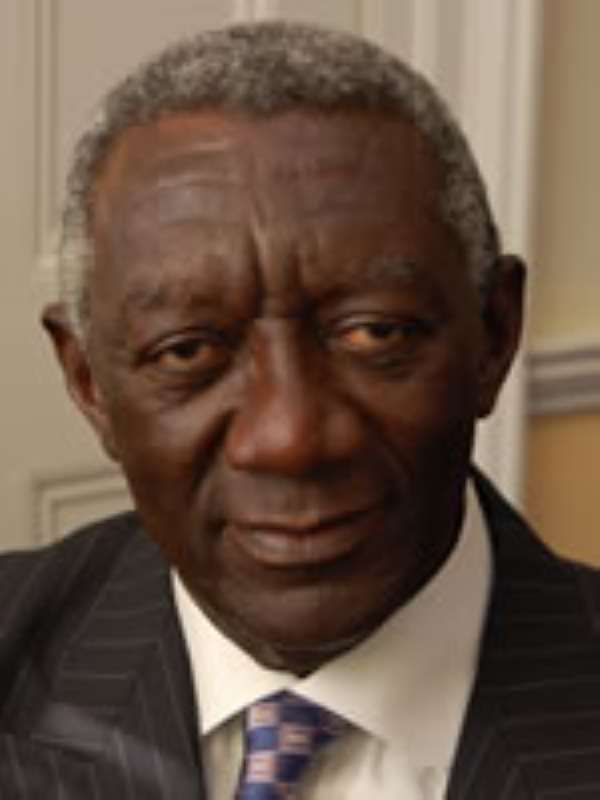 John Agyekum Kufuor, former president of the Republic of Ghana
Former President John Agyekum Kufuor says he is "shocked" by news of the passing on of Mr Daniel Augustus Lartey, founder and leader of the Great Consolidated Popular Party (GCPP).
In a statement issued on Tuesday, Mr Kufuor described Mr Lartey as a man of great conviction who "stood by his ideals and defended what he believed in staunchly."
"Mr. Lartey or 'Mr Domestication' as he is popularly called, has paid his dues as one of the political stalwarts of our time," the statement said.
"The fervour and dynamism he brought to the national political plate at his advanced age were amazing, even to his adversaries. As a veteran politician, Mr. Lartey had his fair share of the political vicissitudes of this country but he never gave up in his quest to see Ghana shaped in the mould of the vision that he had for it.
"Alas, death has robbed him of achieving that goal. As we mourn the loss of this great son of Ghana, it is beholding on those who share in his dream to sustain it and grow the party he founded as memorial to his great works," the statement said.
Dan Lartey, also called Uncle Dan or Domestication, passed away on Monday, December 28, at his residence in Accra after a short illness, according to family sources. He was 83.
Henry Lartey, son of Mr Dan Lartey, confirmed the death to Adom FM.
He said the family was meeting Tuesday morning over the bad news but said the family would celebrate the life and death of their father because he had achieved a lot for himself and for Ghana.
Dan Lartey, a staunch vestige of Kwame Nkrumah's Convention People's Party and an Nkrumahist adherent, has run for national president on the ticket of the GCPP on two occasions since breaking away to form the GCPP as a splinter of the CPP.
After the 2000 and 2004 elections, he was only stopped from having a third bite at the 2008 presidential race when the Electoral Commission disqualified him for submitting his nomination papers late. He had just managed to beat an October 17, 2008 deadline for the exercise and paid the stipulated GH¢5,000 nomination fee only to be told of errors in his documents. The documents and money were returned to him but it was too late already to beat the deadline.
A former publisher and labour unionist, Dan Lartey's name became a household one following his 2004 mantra of domestication, a political thought of growing Ghana from Ghana rather than depending on foreign aid and investments.