Christians asked to pray for peace and unity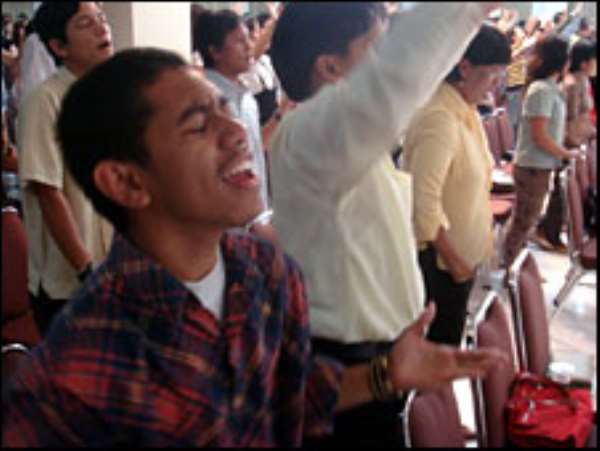 The paramount chief of Tatale Traditional Area, Obore Gariba Yankosor, has called on Christians to use the Christmas and the New Year festivities to pray for peace and unity for the years ahead.
He said it was important for Christians to enjoy themselves by eating, drinking and singing, but it added that it was equally important for them to devote much time in prayer for the country.
Obore Yankosor made the call when he together with his elders met some Christians at his palace in Tatale.
He commended the Zabzugu-Tatale District Security Committee (DISEC) for maintaining peace and order in the district throughout the year.
He called on the traditional authorities, assembly members, opinion leaders and workers in the area to cooperate with the District Chief Executive, Mr Umar Abdul-Wahab, who is the Chairman of the DISEC to continue to maintain peace and order.
Obore Yankosor also asked Christians to pray for peace in Bawku and Dagbon to enable government to use the resources it was using to keep peace to rather be channeled to rehabilitate roads, hospitals and schools.
He appealed to the Regional Coordinating Council to assist farmers and the people of Zabzugu-Tatale by rehabilitating the 68-kilometre Zabzugu-Tatale to Yendi road, which had become so bad for vehicles to ply on.
He indicated that Nakpale, Wariborgu, Kandin, Sheini, Kubalim, Nahoyili roads also needed serious rehabilitation because these areas grow lots of yams and grains, which must be transported to the urban areas.
Obore Yankosor called on the chiefs and people of Bawku to profess greater peace and unity as we enter the New Year.
He also urged Members of Parliament from the three Northern Regions to use the Christmas holidays to visit Bawku and preach peace to the chiefs and people of the area.
Obore Yankosor appealed to government to assist the Tatale E.P. Agric Senior High School with dormitories through the Ghana Education Trust Fund (GETFund).
He said the academic performance of the school was very good but most of the students, who came from other parts of the country found it difficult to get accommodation.
He commended the Zabzugu-Tatale District Assembly for putting up a boys' dormitory for the school.