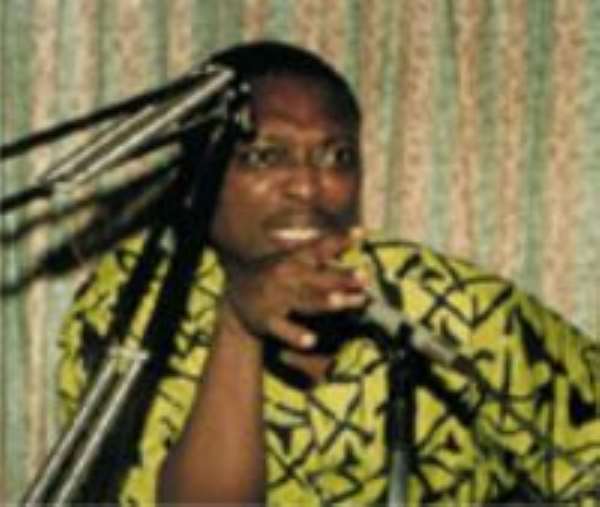 Abdul Malik Kweku Baako, Editor-in-Chief of the New Crusading Guide Newspaper.

© Copyright myjoyonline
The Editor in Chief of the New Crusading Guide Newspaper, Abdul Malik Kweku Baako, says the exercise undertaken by the Presidential Commission that inquired into the activities of the [email protected] celebration amounts to a futile effort.
According to him, the commission's findings were predictable and were only in fulfillment of the National Democratic Congress (NDC) government's campaign promise just as it happened in the case of the Vodafone deal>
The [email protected] Commission of Inquiry was inaugurated by Vice President Mahama and tasked to look into activities of the Ghana @ 50 celebrations. It wound up its public hearings in October after taking the submissions of 238 witnesses, who were involved directly or indirectly in the anniversary celebrations.
The Chairman of the Commission, Justice Charles Duose, presented the commission's report to the President on Wednesday making it "Parliament may cause the CEO (Dr. Wereko Brobbey) and the chairman (Kwadwo Mpiani) to be tried."
Mr Baako claimed he heard the Chairman admonishing the persons whose prosecution the Commission had recommended not to be afraid of being held to account, questioning the basis for Justice Duose's comments.
"Again, did the chairman say that people should not be afraid of being held accountable? But who is afraid?, he asked.
He added that "those who undertook the celebrations willingly appeared before the commission and cooperated with (it) in the full glare of the public, so I think that it is an unnecessary adjunct to what he said because it creates the impression as if there are people in this country who might have been part of that exercise and who are running away from accountability."
Justice Duose also noted that the solution to the kinds of problems that plagued the [email protected] celebrations lay in addressing the weaknesses in Ghana's governance systems, but Mr Baako said the country did not need that advise from the commission because "all audit reports from the 60s to date clearly indicate that we have weaknesses in our governance systems when it comes to accountability."
Mr Kweku Baako who was speaking on Metro TV's Good Morning Ghana on Thursday called the above recommendation by Justice Duose "a superfluous observation to make."
Though the president has assured to act decisively on the commission's findings and recommendations, the Editor-in-Chief noted that "this matter won't go anywhere."
By: Dorcas Efe Mensah/Myjoyonline