An Open Letter To Kwesi Pratt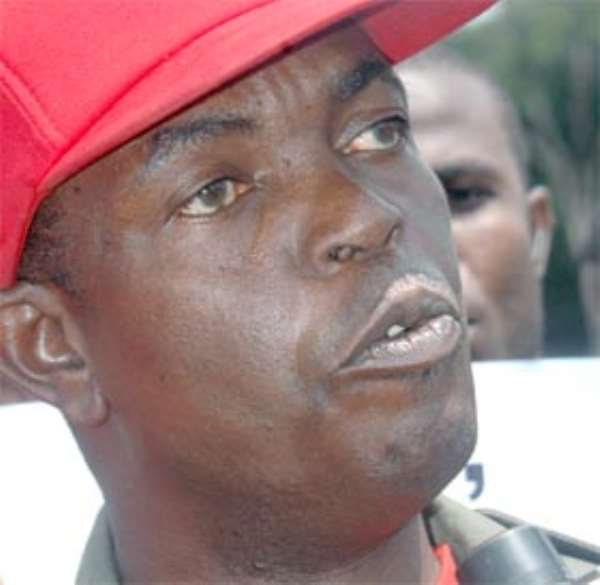 Kwesi Pratt Jnr
At this time last year, Kwesi Pratt and his now defunct CJA were shouting from the roof-tops that the NPP must be voted out of power because Ghanaians could not afford three square meals a day.
They complained of power outages and water not flowing through our taps. Kwesi Pratt consistently complained about how water has not flowed through the taps of his Musuku mansion since the days of Don Diego d'Azambuja.
We are almost a year into the administration of a party brought into power through lies by Kwesi Pratt and the CJA.
Now, I would like to know if the 'paradise' promised the good people of this nation by the NDC during the 2008 electioneering campaign is what we are seeing? Is water flowing through Kwesi's taps today?
Billions of tax payers' money is being wasted on renovating bungalows for pseudo-socialists and 'school boys' to occupy but Kwesi seems to have abandoned his 'total abhorrence' to such profligate expenditure by jumping unto the gravy-train himself, by accepting to embark on that useless and profligate jolly-ride to south Africa.  
I was listening to the (1/12/9) edition of Peace Fm's 'Kokrokoo' morning programme and I was not surprised to hear Kwesi Pratt, in his full elements, moving heaven and earth to justify the trip he made to South Africa for the World Cup draw.
Here, I would like to say that Ghana is indeed in the throat of insipid self-seekers who parade as people who cherish the general well-being of people of this nation.
These individuals were at the fore-front of constant agitations to the effect that monies that could have been spent in other areas of the economy in order to bring relief to our people, were being expended on frivolous trips by the NPP administration, and for that reason, the NPP was perpetrating an act of 'genocide' against the people of this country and must therefore be voted out of office.
These people sat in studios of radio stations and shouted themselves hoarse, to the point of risking epileptic seizures, that in their view, the then President Kufuor was interested in traveling just because of per-diem.
Every trip by kufuor was therefore subjected to spurious scrutiny and pictures of hotels hosting the president during his travels were always splashed on front pages of newspapers.
Whenever Kufuor travelled, these people will come out with the estimated cost of the trip by way of hotel bills, number of the entourage and the relevance of every member on the entourage to the said trip.
When all these critiques were going on, the people of this nation thought we had found in the likes of kwesi Pratt and his now defunct CJA, an army of 'saints' who the mention of a foreign trip of any kind with a per-diem, is 'harram' and must therefore not be allowed anywhere near their doorsteps!!
Now, during the Peace Fm programme I earlier mentioned, Kwesi was as usual, given the leeway to run-down his critics for the simple reason that they (the critics) have decided to hold him (kwesi) to his avowed principle of holding every government in our nation's history, to account. Simply put, Kwesi is someone who likes to criticize others but highly allergic to criticism himself.
In Kwesi's submission during the programme, he said he first had a call from the Minister of Sports.
And his (Kwesi) first reaction was that he was not going to honour that request and that he would rather delegate one of his boys to embark on that trip.
Kwesi must have instinctively tried to reject the Minister's request on the grounds that it was probably profligate and frolicsome. What then made Kwesi change his mind and embarked on that South African trip?
On the issue of per-diem, Kwesi tried desperately, but in vain, to throw dust into the eyes of Ghanaians when he said that he was given a paltry sum of $500 for a 6-day stay in South Africa and it is therefore unjustified for us to talk about it.
He tried to make it look as if the per-diem was to be used to cater for all his expenses during his stay in South Africa.
What Kwesi deliberately did not tell Ghanaians was the fact that all his accommodation, feeding and plane tickets were borne by the state and that the per-diem was just free cash and nothing else.
Kwesi, you persistently castigated President Kufuor and his appointees for even taking salaries because the state pays for all their needs and that there are millions of Ghanaians who would be happy to be ministers without taking salaries.
Why then did you not turn down that so-called meager $500 per-diem since all the expenses in respect of your jolly-ride were paid for?
Kwesi, don't you think there are other millions of Ghanaians out there who would have been glad to embark on such a jolly-ride without collecting what you termed as a paltry $500? .Kwesi, have you so soon forgotten that there are still people here in Ghana who take home GH¢40 as monthly wages (as you used to tell us) and you are describing a $500 per-diem for a 6-day all-expenses-paid trip as paltry?
Aow !!, 'massa' Kwesi, what at all have the 'moborowas' of this nation done to deserve such a wicked abandonment from a die-in-the-wool socialist like you, so soon? Kwesi, you are definitely not measuring up to the rod you always measured others with.
Kwesi said he has been engaged in the matters of sports for decades. But the question is, we have other seasoned sports journalists with proven records in this country, so why was Kwesi Pratt considered over them?
Is this not simply a question of the now defunct CJA members being made to enjoy the 'fruits of their labour'?
The Sports Minister, in his attempt to justify the selection of Kwesi Pratt for that trip, said he (Kwesi) was chosen because he has analytical capabilities on numerous issues of national importance.
Here, I will completely disagree with the Minister since being a constant loud agitant on radio and TV 7days a week does not necessarily make an individual an expert in all things.
If it is the issue of knowledge in sports, then either Michael Oti-Adjei or Yaw Ampofo-Ankrah, both of whom have had international exposure in this field of endeavour by working with the BBC, would have been the better choice.
In the area of security, Emmanuel Sowatey, Dr.Kwesi Anin or Mr.Bombandie could have best fit the bill. Also, I heard Kwesi Pratt talking about Cape Town's zero sea-level altitude.
'Haaba'! 'Massa' Kwesi, have you now become a meteorologist too? Couldn't the good-old Rev.Steve Nyakotey Kwao, rather, been a better choice in the matters of climatology?
I would not be surprised if Kwesi Pratt, in not a distant future, is tasked with scouting for players for the Black Stars.
In Kwesi's own narration as to the reason for his inclusion in that team (with questionable motive) to South Africa, he made it known to us that he was there to study and advise the Ministry, as to the security, transportation and medical facilities that will be available to our team when they participate in the forthcoming football World Cup competition.
And this is why I am of the conviction that Kwesi Pratt should have stuck to his initial stance and refused the Minister's request.
This is because Kwesi, though extremely strident on the airwaves 7-days a week on matters straddling Archeology to Zoology, is only a practicing 'senior' journalist with absolutely no knowledge in any of those objectives pertaining to the said South Africa trip.
The reasons given by the Minister for Kwesi Pratt's inclusion on the trip is very much untenable for the simple reason that, during tournaments of such magnitude, the local organizing committee will access all probable scenarios in the areas of security, accommodation, transportation and so on.
After this has been done, a group of individuals with the requisite know-how will then be recruited and properly briefed on these prevailing conditions.
These individuals are then tasked as liaison officers and assigned to the various participating countries on their arrival into the country.
This is what is done, universally, when it comes to hosting tournaments of such magnitude.
The Ministry's decision to send Kwesi Pratt on that trip and Kwesi's desperate attempt to justify it, are very sad commentary of the extent to which we, as Africans, are ever prepared to put aside our avowed principles and follow our stomachs when it suits us.
In fact, Kwesi Pratt is someone I least expected to jump unto such a jolly-ride to South Africa in the light of his total abhorrence to state-sponsored foreign travels and per-diems.
Did the Sports Ministry send any 'senior' journalist to go and do any security checks in Germany when we qualified for the last football World Cup tournament? If no, then what was the essence of doing it this time round?
Kwesi Pratt would have definitely gone to sit in the studios of Radio Gold and vehemently condemned such worthless and profligate parallel pleasure trip by the Ministry of Sports to Germany. Are we in an animal farm?
Kwesi Pratt says he stopped his staff from using his 'widely circulated' newspaper to respond to his critics, on his return from South Africa, leading to a "huuuuuge loss of GH¢1000" to his company.
Now, is it not the same Kwesi Pratt who goes to sit in the studios of Radio Gold on Saturday mornings to pour plain insults on anyone he disagrees with?
This masterly art of Kwesi Pratt always shooting from different sides of the lips when it suits him is simply repugnant!!
You see, we must desire to build a nation that our future children will be proud of. As such, we must learn to cut out this shameless hypocritic-artistry from our body politic since such attitudes have been a major contributory factor to Africa's backwardness. E-mail: