23 December 2009
|
Business & Finance
UK company to recycle Cocoa Pods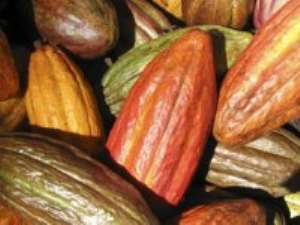 A United Kingdom company, Biomass UK Limited is partnering two UK-based Ghanaians to process cocoa pods into bio-mass for export and local generation of electricity. The partnership will establish three Pelletizers in the country to recycle cocoa pods, hitherto thrown away by farmers, into pellets using local labour.
The Pelletizers will together process 25,000 tonnes of bio-mass each month and would be sited in Dormaa and Ahafo in Brong-Ahafo and Sefwi in the Western Region by March 2010. Each will employ a minimum of 150 workers and several other casual workers.
Messrs Appiah Kubi and Barima Tabiri Kumi Akyeaw, both Dormaa citizens based in the UK made the disclosure when they introduced the UK partners to the Dormaa Traditional Council at Dormaa-Ahenkro during which they appealed for land for the project. Barima Tabiri Kumi Akyeaw, Chief of Akontanim and the Akyempimhene of the Council, noted that they deemed Dormaa, Ahafo and Sefwi as suitable sites for the project "because cocoa is cultivated on a large scale in these areas".
He said the project would not only provide jobs for the youth but would also serve as a major step to open up their fringe communities to the outside world. A member of the UK group, Mr. Samuel Whyte announced that his group chose to partner the local initiative largely because of the relative peace in Ghana.
He said mankind needed to use what the earth has to sustain it (the earth), stressing there was the need to turn to alternative sources of fuel without cutting down trees to destroy the forest and damage the eco-system. Mr. Whyte assured the traditional council of "a robust employment and operational structure, laden with fair-play principles with particular reference to environmental protection".
Receiving the delegation, Barima Yeboah Kordie, Aduanahene, described the project as a shot in the arm of the traditional council in its bid to complement government's efforts at providing jobs for the youth. He said the Council was prepared to donate any size of land that would be required for the factory in Dormaa.