Aftermath of Ashanti Congress... NDC MACHOMEN STRIKE IN K`SI… Party activist attacked for calling Chair illiterate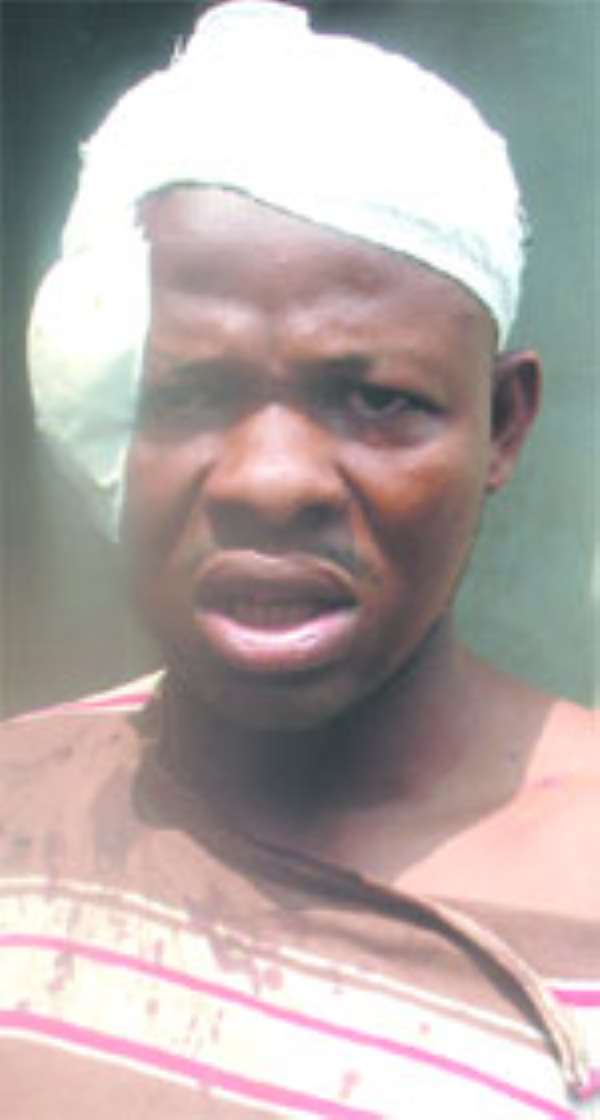 The Asawase police are investigating the circumstances under which aNational Democratic Congress (NDC) activist, Yakubu Adamu alias "Tony Aidoo," was last Sunday attacked and assaulted by three strong men.
Mr. Adamu, a 28-year-old scrap dealer, is a known supporter of Mr. Frank Osei Mensah, who aspired for the position of regional chairman and lost, because he was considered to be Mr. Rawlings' boy.
He told The Chronicle that around 11.30 a.m. last Sunday, an unknown person called him on phone asking that they meet for a discussion. He said just as he stepped out of his Sawaba residence, he noticed a taxi cab with three occupants in it was parked a few metres away.
According to him, a gentleman he knew as Megyima, came out of this taxi and held his collar questioning why he (Adamu) had insulted the newly-elected Regional Chairman of the NDC, Mr. Yaw Obimpeh, and described him as illiterate during a radio programme.
Adamu narrated that before he could answer the question he was hit with a metal object on the head, and was not conscious of whatever transpired again, until he regained consciousness at the Manhyia Polyclinic.
Onlookers, who came to his rescue, rushed him to the Asawase police to lodge a formal complaint, before attending hospital upon the issuance of a police medical report.
Adamu, who has since yesterday given a statement to the police, said his only crime was resenting the conduct of the Regional Congress of the NDC at Mampong last week Tuesday.
According to him, the elections were influenced, because on Sunday, December 13, three days to the elections, all district chief executives (DCEs), the Metro Chief Executive (MCE) of KMA, Mr. Samuel Sarpong, as well as the constituency chairman and secretaries, were summoned for a meeting at the Residency, where they were directed to vote for President Atta Mills' man, in the person of Yaw Obimpeh, because their first loyalty was to their employer (the President).
He said the congress was short of being democratic, as the arms of most of the contestants were twisted, because they were perceived to be Rawlings' men.
According to Adamu, one Debony threatened him on phone for insulting party gurus suspected of having manipulated the Mampong elections.
The activist has called for the arrest of the perpetrators, and all those behind the attack.
He has also called on the regional executives of the party, as well as the Regional Minister, Mr. Kofi Opoku Manu, to ensure sanity in the party.
The police have confirmed the incident, and embarked on investigations.
Meanwhile, Mr. Yaw Obimpeh has admitted that he has no strong educational background.
He says even though he is a Middle School leaver, he is capable of manning the affairs of the party in the region, based on his experience as Regional Youth Organiser for ten years.