Prez Fetes Schoolchildren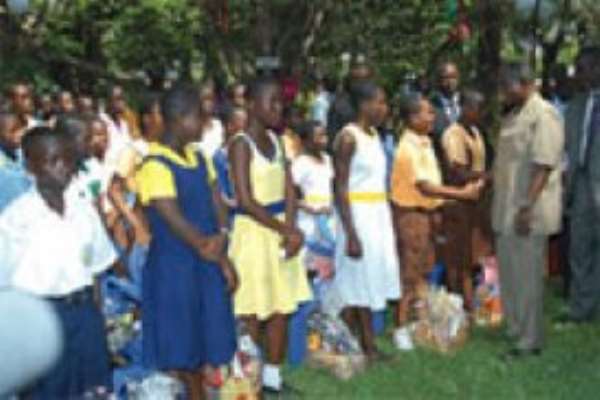 President J.E.A. Mills interacting with some of the schoolchildren at the party
Teacher motivation and the provision of logistics will receive a major boost in the government's effort to improve teaching and learning at the basic level of education next year, President John Evans Atta Mills has assured.
He said since the country's future well-being was dependent on the existence of a well-educated and disciplined workforce, the government would spare no effort at enhancing teacher motivation through the provision of incentives and improvement in their remuneration.
Interacting with selected schoolchildren drawn from all the 10 regions at the Castle in Accra yesterday, President Mills said in addition, the government would equip schools throughout the country with teaching and learning materials, as well as build classroom blocks to facilitate work at the basic level.
He said the government recognised the role and sacrifices that teachers made in their efforts to educate, as well as inculcate sound moral values in, schoolchildren.
He explained that it was proper and prudent that teachers attached importance to the character training of schoolchildren, since that would make the children responsible citizens in the future.
President Mills explained that the government was also aware of the difficult conditions under which several school-children were studying, especially in the rural communities across the country.
He remarked that since schoolchildren in the rural communities were not as well-endowed as their urban counterparts, the government would do well to provide the necessary basic facilities to improve learning in schools in such areas.
He informed the gathering that the government would also embark on the rehabilitation of dilapidated structures in deprived rural communities and urban centres across the country.
President Mills expressed concern over the breakdown of rural values, which had impacted negatively on children whom he described as the country's future leaders.
For his part, the Minister of Education, Mr Alex Tettey-Enyo, advised the schoolchildren to take their studies seriously to enable them to face the challenges of the future.