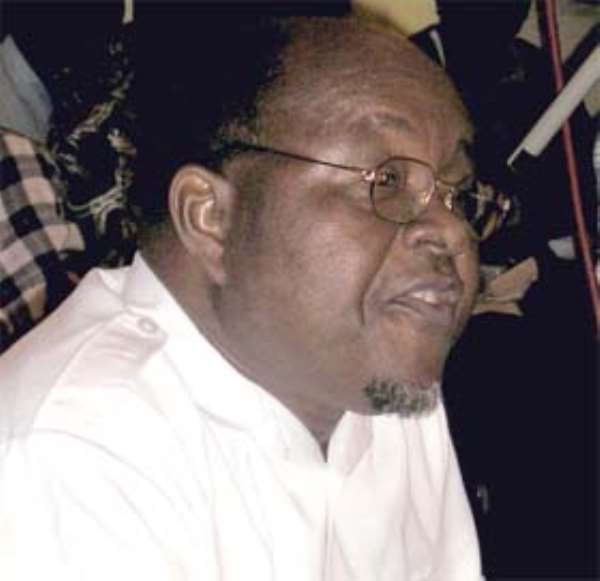 Prof Mike Ocquaye
PARLIAMENT is expected to rise for a nine-week recess today after it failed to complete the business of the third meeting of the Fifth Parliament of the Fourth Republic last Friday, despite a marathon meeting that spilled over into the night.
The House, which is expected to resume on Friday, March 26th 2010, diligently scrutinized and approved loan agreements for government' budgetary support and also passed a number of bills late under the chairmanship of the Second Deputy Speaker, Prof. Michael Aaron Quaye.
Among the bills passed by the House were the Interpretation Bill and Appropriation Bill, which would allow government to withdraw monies from the Consolidated Fund for the 2010 expenditure and the Electronic Communications (Amendment) Bill, among others.
The House also approved government' budgetary  for the Ministry of Information, Commission on Human Rights and Administrative Justice, National Commission for Civic Education and the Audit Service.
An amount of GH¢35, 122,834 was approved for the Ministry of Information; GH¢7, 579,504 for the Commission on Human Rights and Administrative Justice and GH¢ 8,625,708 for the services of the National Commission for Civic Education as well as GH¢31, 132,348 for the Audit Service for the 2010 fiscal year.
Before the approval of the Budget estimates for the Ministry of Information, the former Minister of Information, Nana Akomea lamented about the inadequate budgetary allocation for the various Ministries, advising that something should be done about it.
He said the shortfalls in allocations to the Ministry of Information was not only going to affect the Ministry but would also affect agencies and institutions such as the Information Services Department (ISD), Ghana News Agency (GNA), Ghana Broadcasting Corporation (GBC) and the National Film and Television Institute (NAFTI).
Nana Akomea therefore suggested that government should consider strengthening these institutions to generate their own funds to wean them off government subvention.
He also called on the Minister of Information not to use the allocation for unapproved activities.
The House unanimously adopted the Sixteenth Report of the Appointments Committee on the  Deputy Minister of Health designate, Nii Oakley Quaye–Kumah.
The Deputy Minister, who is also the Member of Parliament (MP) for Krowor, is a veterinary surgeon and worked as the Chief Executive Officer (CEO) of Beach Road Animal Hospital in Nungua and Westland Hospital at West Legon.
Presenting the business statement of the House, the Majority Leader, Alban Bagbin expressed gratitude and appreciation to the speaker of Parliament and MPs for their sterling performance during the Session and wished them a Merry Christmas and a Prosperous New year.
The Plants Bill and Centre for Urban Transportation Bill are expected to be considered today.
By Sheilla Sackey