Nigeria runaway truck kills many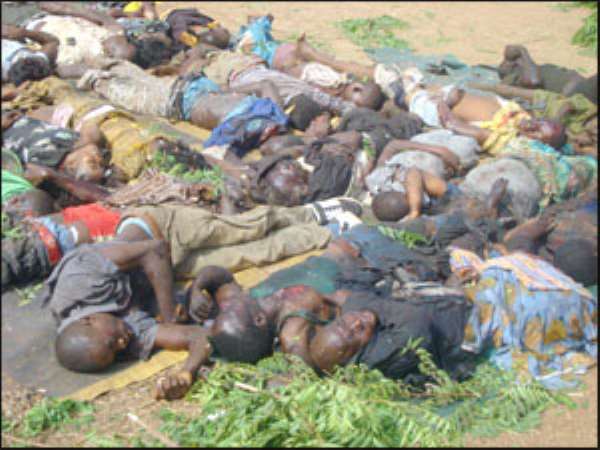 Up to 100 people have been killed after a runaway truck ploughed into a crowded market in Nigeria.
Officials said 55 people died, but a BBC reporter at the scene, in Kogi state, counted at least 100 corpses.
Kogi state police said the lorry hurtled down a hill at speed, smashing cars and motorcycles then crashing into the market, injuring up to 40 people.
Traffic accidents are common in Nigeria because vehicles and roads are badly maintained.
"I can only confirm that 55 people were killed. The driver of the truck lost control and ran into a group of people moving in a procession along the road," a senior police officer told AFP news agency.
Burned beyond recognition
Kogi state commander of the Federal Road Safety Commission, Yomi Asaniyan, said brake failure was the cause.
Declaring three days of mourning, Ibrahim Idris, the governor of Kogi state, expressed his sadness and offered to pay the medical bills of those injured.
Eyewitnesses told Nigeria's Sunday Trust newspaper that the market in Allo village in the Dekina area was filled to capacity when it was rammed by the lorry.
A number of vehicles caught fire, burning people beyond recognition. It is not yet clear whether the accident happened on Friday or Saturday.
Last week, more than 20 people burned to death when a bus carrying mourners to a funeral collided with a truck on a road in Oyo state, south-west Nigeria.