Homosexual cites bank managers and policemen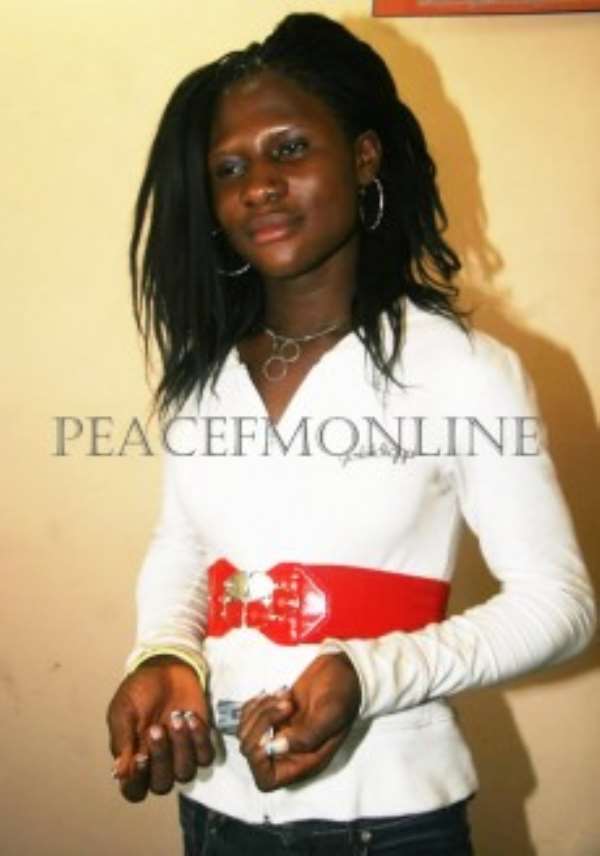 Christian Boateng, the 20-year-old male sex worker.

Christian Boateng, the 20-year-old male sex worker who was last week Thursday arrested by the Dansoman police for operating as a female sex worker, has told The Spectator that some of his clients are prominent bank mangers, policemen, businessmen and accountants working in the Kumasi metropolis.
Christian who usually dressed up as a female to lure his clients pleaded with this paper to keep the identities of the clients anonymous, because if their identities and work places are disclosed, the scandal will become a big disgrace to them, destroy their families and elicit public outrage against them. Christian Boateng said any time he was in his female dress and approached by these sex-hungry clients, "I immediately tell you in the face that I'm not a woman but a man who is willing to engage in anal sex if that is what you like."
He told The Spectator team that will this information the client, if he is willing, agrees to go with him to a hotel of his choice to have anal sex with him at the cost of GH¢20 for a full-night service and GH¢10 for a half-night otherwise known as 'short time.'
The suspect who spoke in a rather cheerful and relaxed mood at the Dansoman Police Station explained that he became a male sex worker in 2005 using a female style of dressing as his modus operandi because such a guise was enticing and a good marketing strategy.
As to whether he was aware of the prevalence of HIV/AIDS, he replied: "I am fully aware and that is why I always demand that a client wears a condom before sex," he said, adding that, "no condom, no sex."
Christian who uses various female names such as Jacqueline, Ama Pokuwaa, Serwaa and Angela, explained that he had not had any health problem with his rectum all this while he has been practicing homosexuality because of the use of condom to reduce friction and prevent the exchange of body fluids, particularly semen.
According to the suspect, the last straw that broke the camel's back last week Thursday and landed him in the grips of the police was a single glass of coca cola he asked his client to buy for him at a drinking spot at Dansoman Sahara, Accra, where they both went to take in some alcohol to charge up for the sex act.
"I remember my client pouring the coca cola into a glass with the ice cubes to make it cold but I did not know it had been laced with alcohol which knocked me off into sleep, rendering me helpless."
According to him, he ended up at the client's residence where he was given a mattress to sleep on in the hall as he waited for "action" to begin.
"Unfortunately, however, my client who was in a drunken stupor came to sleep by me but later left without doing anything. It was rather his younger brother who later came to lie down by me and was trying to have sex with me thinking I was a woman. However, I insisted that as a prostitute I wanted a down-payment of GH¢10 before anything could take place, but the brother offer me GH¢5.00 which I refused and even told him he was not of my class.
"As we haggled over it, I lapsed into slumber, and this younger brother took advantage to remove my female dress only to discover that I was not a woman indeed but a man with two balls between my thighs. He woke me up and asked me to tell him the truth about my gender or else hell would break lose. "True to his words he raised an alarm after making several calls o his friends. This attracted a large crowd at about 2:30am at Sahara Dansoman where a police patrol car pulled up and arrested me in the process. I was taken to the Dansoman Police Station for interrogation," he said.
Meanwhile the Dansoman District Police Commander, Police Assistant Superintendent (ASP) Wilson Aniagye, has warned men who patronise the services of sex workers not to make the mistake of taking such sex workers to their homes since some of them could be criminals parading as females soliciting for sex.
"To your surprise, these criminals may pull a knife or any offensive weapon to either kill or rob you of your money and other valuables," he said. ASP Aniagye said as Christmas was fast approaching, criminals were adopting subtle methods to prey on innocent and unsuspecting people. He said Christian Boateng would be charged under Section 29 (Act 60) of the criminal code that has it that any person who persistently solicits in any public place or in sight of any public places shall be liable to a fine. On a second offence, he shall be guilty of misdemeanor or serve a jail term of not more than six months.
The suspect would appear before the James Town Magistrate court on December 21. ASP Aniagye disclosed that the suspect would help the police to arrest the male client who caused his arrest.

Source: The Spectator