West African leaders pin their hopes on oil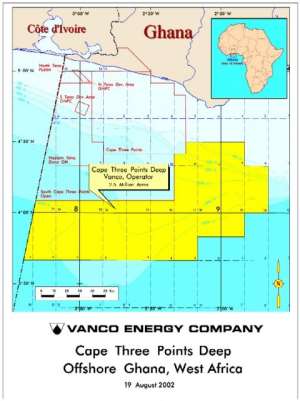 Abidjan - When European traders began to ply west Africa's coast they marked their charts with whatever they found to deal in - pepper, ivory, gold or slaves.
Some think the map of the future might be marked with one word: oil.
New technology and the search for secure supplies away from the Middle East are driving west African offshore exploration far from the region's traditional producers. If, or where, the hunt succeeds, it could transform some of the world's poorest and most unstable economies.
But the lesson from those African countries already nourished by oil riches is that it could also help shore up corrupt and dictatorial governments or even fan war.
Most attention is focused on Mauritania, where drilling last month by a group led by Australia's Woodside Petroleum confirmed last year's oil strike.
The first Chinguetti well inspired the hope of finds in unexpected areas just about anywhere around west Africa's bulge into the Atlantic - drawing interest from more than just the small independent firms. The Mauritanian field has been estimated to hold at least 65 million barrels of recoverable reserves, but with the possibility of much more.
"Mauritania is the most mature, however, there are other significant prospects," said Peter Dolan of Fusion Oil and Gas, a minority stakeholder in Chinguetti and in the front line of small firms hoping to make it big off west Africa.
"The Woodside group joint venture is a very substantial investment," he said. "Added to the fact that Amerada Hess has made a substantial commitment to farm into blocks off west Africa, I think it sends the right signals for the region."
Down from Morocco and Mauritania, the search bends around through Senegal, Gambia, Guinea-Bissau, Ivory Coast and Ghana towards the proven giants of Nigeria and Angola and newer Gulf of Guinea hot spots like Equatorial Guinea.
Finding a new Equatorial Guinea, whose oil production has zoomed from almost nothing a decade ago to more than 200 000 barrels a day, is the dream.
"We need to diversify our economy from gold, cocoa and timber exports," said Ghana's energy minister Albert Kan-Dapaah. "If we can do that by striking oil, which we have reason to believe is available, we should go full steam ahead."
The search has been helped by technological advances that make it economic to find and pump oil in ever deeper waters, even if prices slip from current levels.
Added political impetus has come from the US, which is seeking secure oil supplies away from the Middle East. Oil firms say there is a clear drive from Washington towards a region that is separated only by the Atlantic from its East Coast markets.
So far, though, only Ivory Coast is producing oil in any real quantity, and even that is not enough to meet the local needs of about 60 000 barrels a day.
"Generally the country is a stable working environment and you get good support," said Simon Dugdale, general manager of Canadian Natural Resources.
Even Ivory Coast's stability is relative - hundreds died in political and ethnic clashes less than two years ago - but it has an edge in encouraging investment, compared with some nations now trying to get in on the act.
War-ravaged Sierra Leone and Liberia, where fighting continues, both hope to strike it rich.
The more bullish prospectors point to the experience of Angola, where decades of civil war did very little to affect output, as an example of how it is possible to work offshore regardless of what is happening on land.
Offshore west Africa has a security advantage over other regions when it comes to transport, since ships can sail straight into the Atlantic. There is no need for risky pipelines or for tankers to sail through narrow straits.
While the region's rulers might be rubbing their hands at the thought of exploration investment and signature bonuses for blocks - let alone the prospect of a find - west Africa's people need not look far to have reason for concern.
Top sub-Saharan producers Nigeria and Angola are both ranked among the most corrupt countries, with tens of billions of dollars of oil money misspent or simply missing from murky government accounts over the decades.
In smaller producers like Gabon and Cameroon elites have prospered, but the villages of the interior are as impoverished and disease-ridden as any others on the continent.
In Angola, Congo Republic and Nigeria during the 1960s, oil helped drive outright civil wars.
Campaigns by villagers to demand a better share of resources have led to years of unrest in Nigeria's oil regions.
The lesson from newly rich Equatorial Guinea is far from positive: The sports cars of the few who have prospered judder along potholed streets, prostitution is booming and food prices in the capital have soared.
Human rights groups have condemned the sentencing in June of 68 opposition members accused of plotting against President Teodoro Obiang Nguema, whose clan holds all positions of power.
"The fundamental issue is transparency in the management of resources," said Gavin Hayman of Global Witness, which is trying to make sure that at least the oil industry's giants publish what they pay the region's governments.
The big firms were more susceptible to western consumer pressure over their behaviour abroad, Hayman said.
"It won't catch everyone, but particularly where big offshore investments are involved it is only the big companies that can afford to work," he said. "Publishing what they pay will make sure citizens can hold their governments to account."