Let's Strengthen Trade In Africa- Awal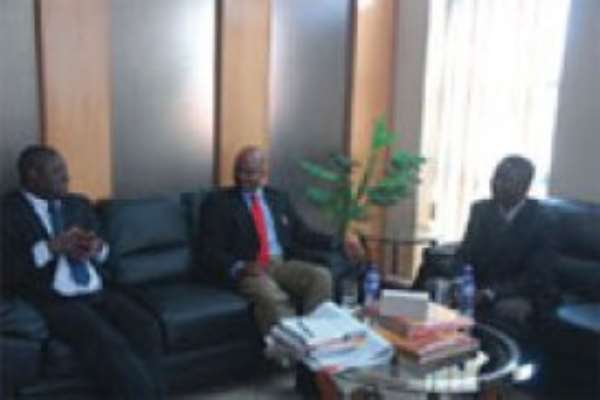 The MD of the Graphic Communications Group Limited ,Mr Ibrahim Awal(left) holding discussions with Mr Kosmas H.Egumbo (second left) during the visit in Accra today.
The Managing Director of Graphic Communications Group Limited (GCGL), Mr Ibrahim Awal, has stressed the need for the strengthening of trade relations between countries in the West African sub-region and their Southern regional counterparts.
He said the low level of trade and business among African nations was not the best and stressed the need for a concerted effort to promote intra-African trade.
Mr Awal said this during discussions with the Managing Director of Air Namibia, Mr Kosmas H. Egumbo, when he paid a courtesy call on him at his office in Accra yesterday. He was accompanied by the Country Manager – Ghana, Mr Peter O. Addai.
He said Ghana's growing democratic credentials made it not only a gateway to trade and investment on the continent but indeed a preferred destination for international trade and business.
Mr Awal said the investment climate in the country had been made more facilitative with the conduct of five peaceful and successful national elections, which, he said, should be taken advantage of by prospective investors.
To this end, he gave the assurance that the Graphic Communication Group would partner Air Namibia to help not only to improve business relationship between the two companies and countries but also open the floodgates for intra-African trade to flourish.
"Newspapers of Graphic stable do not only inform and educate the people but also set the agenda for public discussion of critical and important national, regional and international issues, "Mr Awal added
The Managing Director of Air Namibia, Mr Egumbo, pledged Air Namibia's commitment to provide effective and reliable services for Ghanaians.
He lauded the excellent relationship between Ghana and Namibia and expressed the hope that the introduction of direct flight services between Accra and Windhoek, the Namibian capital, would further strengthen the relationship between the two countries.
He was happy that the volume of trade between the two countries was increasing steadily, adding that there was great potential for enhanced trade between Ghana and Namibia.
He said his company had received national and international honours for providing quality services to its customers and promised that its services to Ghana would be equally good.