Mother, 6 kids burnt to death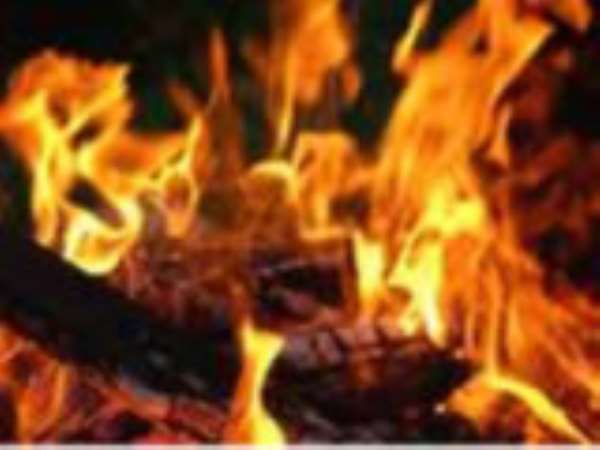 A woman and her six children, including seven month old twins, were completely burnt when their bedroom caught fire on Sunday, December 13, throwing the Atase Community near Barekese into a state of shock and mourning.
Helena Nsiah, 38, and her children, Achiaa, 17; Naomi and Gabriel Boakye both 14, Lydia Boakye, seven and the seven month-old twins, were sleeping in one of their two-room apartment when it was engulfed in flames.
The fire, said to have started at about 3am, also destroyed valuable items, including money.
The cause of the fire was not known but some people attributed it to an electrical fault. Inspector Mohammed Yusief Tankoh of the Ashanti Regional Police Public Relations Unit and Helena's husband, Samuel Nsiah, 46, who was not at home when the incident occurred was arrested for questioning but was released on bail.
He had left home moments before the outbreak. Inspector Tankoh said the fire spared the life of Helena's 76-year-old mother who was sleeping in the adjoining room.
According to Inspector Tankoh, when Helena gave birth to the twins, her mother went to assist in taking care of the babies.
The old woman was given one of the rooms while the rest of the family slept in the other.
He said the old woman told police that about 3am on Sunday, she heard a loud blast from Helena's room and when she went out she noticed the room was on fire.
Although her shouts alerted neighbours who came to fight the raging inferno, they could not save Helena and her children.
Inspector Tankoh said that Mr. Nsiah also told the police that he left home at about 2:30am to visit his cocoa farm before going to see their sick eldest son at a prayer camp.
The charred remains of the dead have been deposited at the Komfo Anokye Teaching Hospital.

Source: G. Times