BEDS FOR SALE!!! . On Legon Campus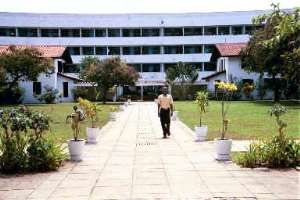 The sale of beds to non-resident students by their resident colleagues at the University of Ghana, Legon, has become a thriving business.
In-depth investigations by the "Ghanaian Times" have revealed that the beds are sold for between ¢400,000 and ¢600,000 per semester (four months) and ¢1 million per academic year, depending on the terms of agreement and one's ability to negotiate. A continuing student at the Mensah Sarbah Hall of the university said, "Your have to get a person who is very considerate before you can get a bed at ¢600,000 a year". A number of students the "Ghanaian Times" spoke to gave various reasons why "bed selling" had become such a brisk business on campus.
The sources said that some resident students choose to live with their parents or relatives in town and sold their bed to those students from distant places that desperately needed accommodation. Others also sold their beds for financial reasons. A Level 300 student declared that "For instance, if a student pays a Residential Facility User Fee (RFUF) of ¢220,000 for a year and later sells his bed for ¢1 million, it means he has made a huge profit margin". Another student said that other resident students said that other resident students deferred their courses for some time without the knowledge of Hall authorities, during which period their roommates sold their beds.
According to the sources, "Some children of lecturers who are in residence also sell their beds because they do not need them as they live with their parents on campus adding that, we just go and perch with our friends in other rooms or sometimes in the same room after".
Meanwhile, Dominic, 19, a freshman, who commutes daily from Agona Swedru to Legon at ¢20,000 (in and out), said that he was contemplating to give up his admission this year with the hope that he might be offered residence next year.
When contacted, Dr Vladimir Antwi-Danso, Dean of students said that the University authorities are not aware of the sale of beds by students. He, however, did not rule out that possibility, saying," I will not be surprised if it is happening." Dr Antwi-Danso warned that severe punishment would be meted out to any student caught engaging in that business.
He said when he was the Senior Tutor of Akuafo Hall last year, he moved from room-to-room driving away more than 100 students who occupied beds illegally, and gave the beds to those who had applied for them. The dean appealed to student to report any of such bad practice to the university authorities for action.