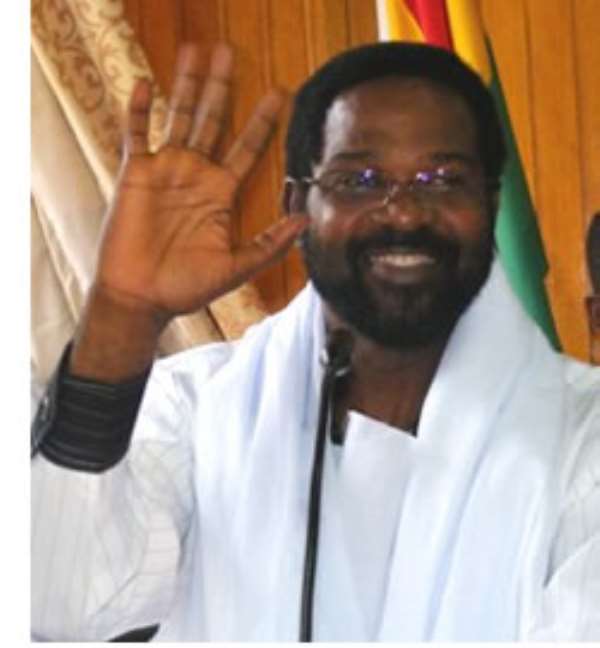 The Mayor of Accra, Alfred Vanderpuye, promised to rid the streets and pavements off hawkers

The Mayor of Accra, Alfred Vanderpuye, was heckled by angry market women on Monday November 14, when he led dozens of heavily-built men to demolish structures at the Kaneshie Market.
The decongestion exercise commenced at about 4.00am Monday morning, with the Mayor directing affairs.
However, having lost their investment, the traders visited their anger on the AMA Boss, charging on him and pelting him with stones.
Some of the hawkers were prevented from taking away their wares as fire set on their makeshift stalls raged, destroying property worth hundreds of Ghana cedis.
The Mayor was the target of obscene insults by the women and youth, some of whom threatened to turn to armed robbery since their sources of livelihood had been destroyed.
One of the aggrieved persons cynically referred to President Mills 'Better Ghana' agenda as 'Bitter Ghana.'
The traders, who took the law into their own hands, fought officials of the AMA and pelted the AMA Boss with stones and other objects when he joined the task force at the Kaneshie Market.
The AMA task force, in an effort to discourage the traders from doing business at unauthorized places of the Central Business District (CBD), were said to have destroyed tables and structures of some traders on Sunday night.
When Daily Guide paid a visit to the Kaneshie Market to find out from the affected traders why they were refusing to heed the instructions of the Assembly, most of them pledged to continue to fight the AMA boss if he refused to allow them to sell during the forthcoming Christmas period.
They explained that even though they knew their actions were not right, they expected the Assembly go give them some chance during this yuletide to do brisk business to feed their families.
Most of the traders threatened to bounce back when the task force leaves the place, explaining that at all cost, they had to trade during this Christmas period.
The AMA Boss had earlier explained to Daily Guide that although the situation of decongestion the city was very tough, the Assembly needed to sustain the exercise.
He said due to the unlawful attitude of the traders, movement of persons within the CBD was very difficult as people were usually seen sweating profusely when they came out of the CBD areas as a result of the intense struggle they go through.