What Should The President Have Done?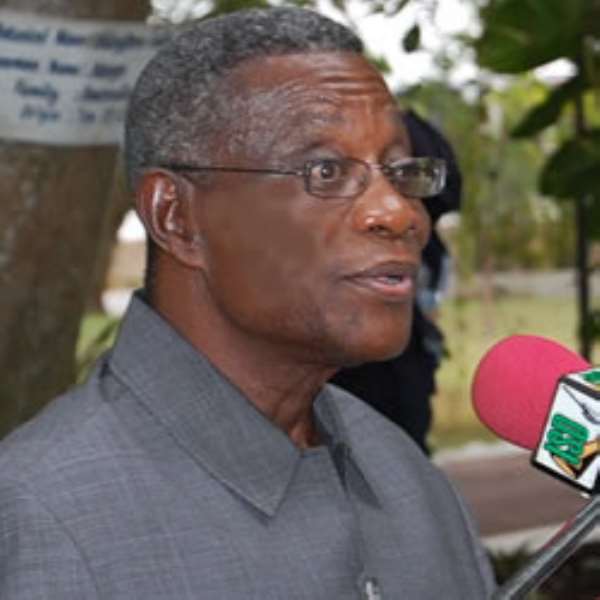 President Mills
It is nearly a year since President Mills took office, and already the criticisms are loud, pervasive but generally incoherent.
His aides and supporters indulge in the cardinal mistake of trying to answer the critics instead of spreading the message of the President. The raw Ghanaian character has therefore taken centre stage.
This character perhaps through experience has developed a peculiar individualistic streak which boldly subordinates the national interest to self-promotion and advancement.
Thus no matter which government many in positions of power or influence prevent or modify measures which threaten their private interests.
It does not take much acumen to see those interests at work when for example government acts or tries to take measures to reduce chicken or rice imports.
Those in the particular import trade and their supporters suddenly become the champions of the poor and argue passionately for the measures to be up on hold to save the poor worker from higher cost of food.
Those genuinely interested in the poor are unfortunately often influenced even at the top. Sentiments come to the fore and analysis and rigorous thinking take back stage.
For example, the other day it was reported that the Chinese had given some rice as a gift to the nation. The one who received the rice said it would be sold at reduced price to the people.
I hope this does not reflect top official thinking. It is sloppy thinking. Among other things it will aid corruption. Who will get the rice at the reduced price?
Certainly not the ordinary people. Those with connections or ready to bribe will get the rice at the reduced rate. It is difficult to take bold measures to deal with the major problems of Ghana. However, the Ghanaian character notwithstanding, the people appreciate results which are good.
Thus even though untutored party politicians will argue that removing traders from the streets or squatters from "Sodom and Gomorrah" will result in losing votes, the great majority of Ghanaians will appreciate enforcement of the laws to make life liveable for all.
Ultimately the people will judge the President they have directly elected by the improvement of life after his four-year tenure of office.
Four years is not long and the people would therefore like to see evidence of their expectations.
Personally, I am glad that the executive President is not seen all over the place inaugurating projects from shopping malls through schools and colleges to community toilets and receiving visitors be they investors or traders or messengers announcing deaths.
He cannot certainly do that and have time for his real work. Those he should meet are the Ghanaian experts and administrators whose inputs he needs to take appropriate measures to deal with specific issues within an overall plan to move the country forward.
Naturally, he should abide by his manifesto. But if on taking office he finds the facts different he should say so and institute the appropriate measures to deal with the essence of the manifesto and promote his political philosophy.
TOR for example seems to find it difficult to obtain crude oil. Ghana Commercial Bank appears to be licking its wounds from over-exposure to TOR.
A firm decision should be taken so that TOR functions normally; so that government finances are not strained; and so that we the people pay more for fuel if necessary. We should put fruitless debate at rest and get on with the real business.
What we should discuss are the major issues of finance, unemployment and economic growth, education, health, water and energy or electricity.
Of course, all these are best dealt with in an overall plan and policy. But with the people concerned with nagging problems, these should be addressed immediately if the government is to gain the support of the people for its development plans.
Take water for example. For the necessary public support the government's appreciation of the problem should be clear. This will enable a critical mass to understand and actively support appropriate measures and prevent even members of government from making unfortunate and embarrassing statements such as providing Togo with water while we thirst.
From what I gather, while we need some 150 units of water in Accra only 90 is produced. Of the 90 about 45 per cent is lost through defective pipes and other equipment and stealing. Frequent electricity cuts also impede water flow long after power is restored.
To obtain more water huge investments in pumps, pipes and other materials are required. I would like to think that if the President has not already done so he will soon meet his principal technical and other advisers and administrators on the subject.
Such a meeting would suggest the direct and allied measures which should be taken including a plan for Accra and its environs.
With regard to the stealing of water it appears that the penalty offenders suffer is derisory. The law should be suitably amended.
Appropriate sanitary and environmental control and supervision of water ways would also help as this would for example reduce the huge cost of chemicals used to make Weija water drinkable.
Other measures may be considered. When I first went to Koforidua in 1935, I thought the water supply system in the house was the same as in Accra.
It took me months to realise that rain water was channelled through gutters at the edges of the roof into a huge tank from where the water was distributed.
We should have a similar system in Accra in our present circumstances. We should learn from practices 70 years ago.
Above all we should put an end to unhelpful debates about Aqua Vitens Rand Limited. If the arrangement is bad we should put an end to it and move on. If it is useful we should try and get the maximum benefits.
But we should know the facts before we talk and act. During the floods in Accra, I saw people carrying cans looking for water.
"Water, water everywhere; Nor any drop to drink."
We appeared funny. While water was carrying our people to death we did not have enough to preserve life. We have enough expertise in our ministries and institutions at the call of the President.
He should summon them for meetings to deal with specific problems and issues. The meeting need not fully agree on all the measures to be taken.
The President should take his own counsel. That was why we elected him executive President. Ghanaians seldom fully agree. And there are few who will frustrate action if they do not agree so that when there is failure they will say "I told you so".
The President should do what he thinks and believes he should do to move the country forward. Fine-tuning of democracy never moved any developing country forward.
Singapore and Malaysia are examples. We cannot ignore our present situation and happenings in the global village and our own character. The time for bold action is now!
Credit: K B Asante/Daily Graphic