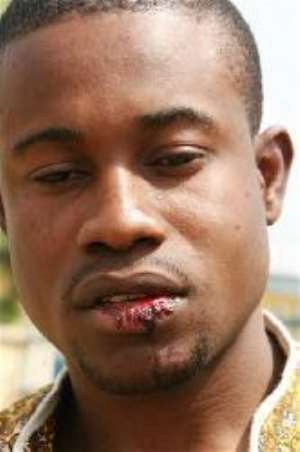 Police Brutality: Nigerian Police Officer Batters Another Journalist
The Nigerian Police on Friday 11th December around 11 am once again showed their act of beastly and brutality on one Nigerian Journalist. The Journalist Mr. Desmond Utomwen is a Senior Correspondent with The News Magazine. According to the Victim, Desmond Utomwen while narrating his ordeal with the Police, said that on that fateful day, while he was driving towards the premises of Guaranty Trust Bank situated at Plot 1072, J.S. Tarka/Faskari Street, Area 3 Garki Abuja, that he observed a kind of peaceful protest by a woman and some other person and he decided to stop in order to carry his statutory function which as a journalist.. On getting there he approached the woman who narrated a story of an alleged fraud by Guaranty Trust Bank. According to Mr. Utomwen he said that from the woman 's narration, that the woman said that in her account that she maintained with GTB, that a total of N490,000.00 almost half a million naira was fraudulently withdrawn from the GTB Automated Teller Machine(ATM), in one single night. According to the woman, she said that is a known fact that the laws of the GTB bank that an individual maintaining an account with them cannot withdraw more than N60, 000.00 with an Automated Teller Machine (ATM) in a day as stipulated by the bank. And that she was surprised how such colossal, amount of almost half a million could be withdrawn from an ATM, when the GTB Bank law does not accept that. In her narration she said suspected a foul play by the bank as she alleged that such fraudulently withdrawal couldn't have been successful without the knowledge of an insider that is a bank staff of that branch. The woman said that To her uttermost dismay, when she went to the Bank to lodge her complains, they refused to give her a listening ear as they told her that she should go and sought her self out saying that they are not liable for that and they don't have time to entertain her.

At the narration of the woman story to Mr. Utomwen, said that in order to balance his story, which the ethics and practice of journalism which ensures fairness and equality, he then made his way into the bank, seeking to speak to the bank manager pr who is in that capacity to talk to him, but they refused to talk to him and wouldn't want him to see the branch manager. He then left and was making way to where his car was parked, in company of some other journalists. Just as he was going with other journalists, that he saw policemen in company of the GTB bank security men that now stopped him, and demanded that he should bring his Digital Camera he was holding, and he asked them why he should bring, before he knows it one of the policemen name Onaji Abah who is with the Garki Village police station and the GTB security, elbowed him with his hand, bruised his lips and brushed him down and started beating him. In the process he lost his camera, digital recorder and some money in his pocket.. Not done with that they dragged him into their car and took him to their station. However, after investigation the police man in question was reprimanded by the DPO of the Garki Village police station for his action which was beastly and barbaric..
Originating at www.ukpakareports.com