1,573 Ghanaians deported in 18 months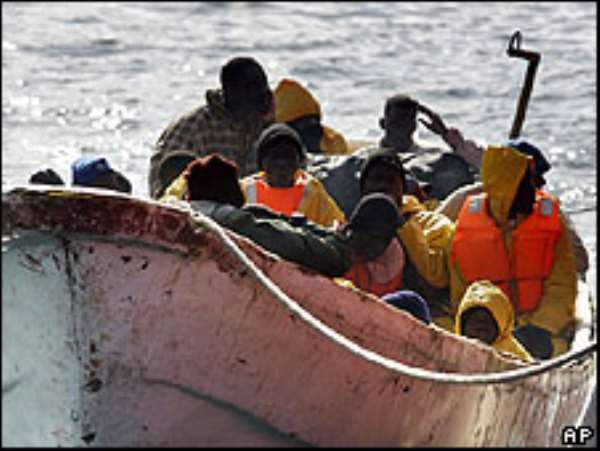 Some travelers cross the Mediterranean Sea by small fishing boats to Spain.

A total of 1,573 Ghanaians across the globe were deported between January 2008 and June 2009.
This is due to misinformation and lack of adequate knowledge on appropriate migration processes, Deputy Superintendent of the Ghana Immigration Service (GIS), Belinda Adwoa Sika Anim, has disclosed.
She was speaking at an awareness programme on the "Dangers of undocumented migration," for traders at Madina, near Accra.
It was organized by the MIB with support from the Criminal Investigations Department, AENEAS Project on countering document fraud, Registrar-General's Department, Births and Deaths Registry and the Passport Office.
She said Ghana had become a transit and destination country, a situation she described as worrying.
Ms. Anim and migration had the potential to boost economic growth and welfare of natives and migrants alike when due processes were followed.
Shedding light on the dangers of undocumented migration, she said some travelers either cross the Sahara desert through Libya to Italy or cross the Mediterranean Sea by small fishing boats to Spain.
These means of migration, she said, were very risky with enormous fatalities and that some migrants needlessly die in their effort to seek greener pastures.
Those who managed to reach their destination faced extreme forms of exploitation in the destination countries, including abusive employment relations, poor pay and poor living conditions.
Ms Anim advised travelers who ply within the West Africa sub-region and other travelers to obtain valid travel documents to ensure free movement.
This, she said, would enable the GIS to obtain adequate statistics for future policy formation.
An Assistant Superintendent of Immigration, at the Kotoka International Airport, Ibrahim Lang-Hani, mentioned page and photo substitution, visa alteration and transplant as some of the fraudulent activities perpetrated by travellers.
He advised potential travellers to seek the assistance of relevant units of the Immigration Service to avoid problems associated with documented migration.
Some participants who spoke to the Times were highly satisfied with the education and said it would go a long way to impact on their future migration processes.