President Mills Please note that Obiang Nguema is a dictator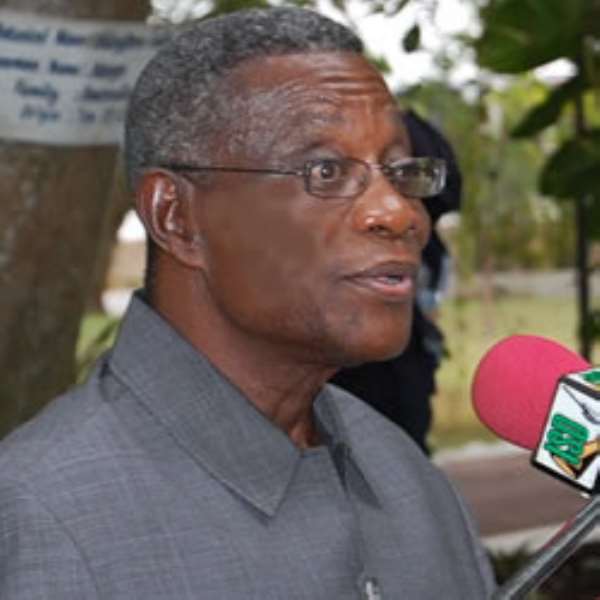 President Mills please note that Obiang Nguema is not a democrat but a corrupt dictator who continue to hold on to power after more than two decades in office. He and his family and their associates have amassed wealth at the expense of their country and the people. The only 600,000 in his country have been denied access to the proceeds of the hundreds of millions of dollars of oil money that flow to his country every year. He has been accused of embezzling billions of dollars belonging to his country and was a subject of a Lawsuit brought by Transparency International for siphoning billions of oil proceeds belonging to his country.
"Few countries symbolize oil-fueled corruption and nepotism more than Equatorial Guinea, a small African country nestled in the Gulf of Guinea whose cast includes a life-long dictator, a family clan that monopolizes power, and enormous oil wealth that gets funneled to secret bank accounts around the world" Source: The New York Times, July 9, 2009.
I can see only one thing from your trip. Ghana needs oil at the moment and Obiang Nguema has it but I think you should not sacrifice the good name of Ghana for oil. It is better to starve than to trade your credibility with dictators. The West have pursued this policy of propping up dictators around the world and they are paying a heavy price for that and so I want you to use the leverage you have to let Obiang Nguema and his cohort in that region to know that their continuous presence as leaders is harming the image of our continent and stifling development and poverty eradication in that part of Africa.
Tell Obiang Nguema and his friends I mean Denis Sassou Nguesso of Congo and Dos Santos of Angola and those in Gabon that it is time to relinquish power and allow true democracy to work. At the moment they are all busy stealing from their countries while many of their people live in squalor. Ask them to use the billions of dollars of oil money that they receive to invest in social and economic infrastructures: education, health, transportation, energy and build economies that will benefit all their people.
Please ask Obiang Nguema and his corrupt associates to diversify their economies and put in place proper structures that will guarantee the existence of their countries when the flow of oil proceeds end. Ask them to stop looting from the coffers of their countries and depositing their ill-gotten gains in Spain, France, Switzerland, Britain, Monaco, Singapore, Australia and the Caribbean Islands.
Do not behave like Western governments who will do anything for oil and therefore will say anything to make dictators like Obiang Nguema happy. He has siphoned oil proceeds belonging to his country into his private bank accounts. He has silenced opposition in his country. His democratic credentials are fake. There is no freedom in his country. Citizens and foreigners alike are often arbitrarily arrested and jailed for doing and saying things Ghanaians take for granted. The citizens in that country have no rights. Their rights to free speech, association, assembly have been curtailed by that corrupt dictator you are visiting. If you take part in his swearing in ceremony then you are saying to him that he was right to steal from the people, he was right to deny the people the right to free speech, he was right to arrest and detain opposition figures.
President Mills remember you were in opposition, but you were able to win election in Ghana, but there is no way an opposition party could win election in Equatorial Guinea.
As the leader of one of the few democratic countries in Africa I am seriously convinced that some of these dictators will want to flirt with you in order to boost their democratic credentials. Therefore do not hesitate to let them know how you and Ghanaians feel about the need for all people in Africa to be given the opportunity to elect their own leaders freely. You must let Obiang Nguema know the need for all citizens in his country to be given the opportunity to say what they want without being arrested, detained and even killed, the need for human rights of every E. Guinean to be respected, and the need for the opposition in that country to be given a voice.
Ask Obiang Nguema how he managed to get 95% of total votes cast in his country and also ask him where the head of the opposition that country is right now. Ask him why he continues to hold on to power when there is every sign that his people are living in poverty after many years of oil proceeds as the following New York Times article suggests:
"As oil prices surged in recent years, the trickle of wealth turned into a bonanza for Equatorial Guinea. In 2007, the government's oil revenues swelled to $4.8 billion in 2007, from $190 million in 1993. But much of the country's population continues to live in dismal conditions. According to the International Monetary Fund, 77 percent of the population lived under the poverty line in 2006" Source: The New York Times, July 9, 2009.
Try and meet members of the opposition in that country and listen to what they have got to tell you about corruption, human rights and poverty.
A 107-page report released by Human Rights Watch in July 2009 has detailed "how the dictatorship under President Teodoro Obiang Nguema Mbasogo has used an oil boom to entrench and enrich itself further at the expense of the country's people. Since oil was discovered there in the early 1990s, Equatorial Guinea's gross domestic product (GDP) has increased more than 5,000 percent, and the country has become the fourth-largest oil producer in sub-Saharan Africa. At the same time, living standards for the country's 500,000 people have not substantially improved". Source: Human Rights Watch, July 9, 2009.
Therefore as you visit him let him know how the people of Ghana feel about these human right abuses being meted out to our African siblings by this dictator.
Above all encourage him to step down, account for the billions of oil proceeds he has received, restore all the rights he has curtailed in the country to the people, end corruption and impunity and finally give the people of Equatorial Guinea the chance to live normal life like those of us here in Ghana. Please do not let the people of Ghana, E. Guinea and Africa down.
By Lord Aikins Adusei
Activist and Anti Corruption Campaigner
Development / Accra / Ghana / Africa / Modernghana.com