Ghana Needs National Development Plan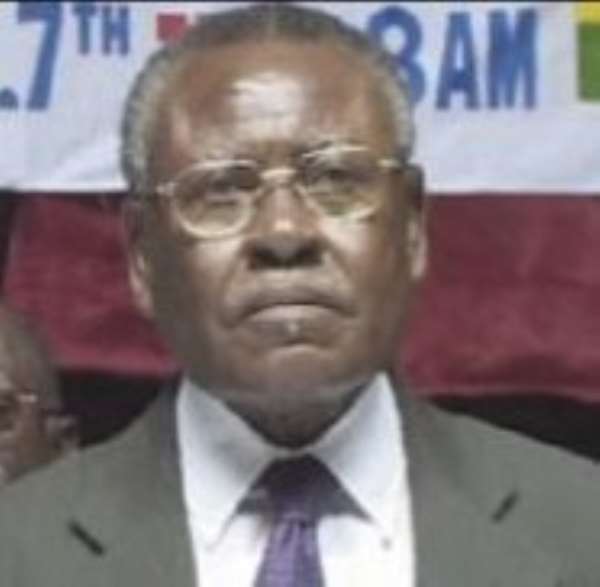 Mr J. H. Mensah
Ghana requires a national development plan, prioritisation of national development agenda and a radical change of mindset and work ethics to propel its development aspiration.
According to four renowned Ghanaian economists, the country need to strip its development aspiration of political influence and let the national interest be the guiding principle in all endeavours.
Messrs J. H. Mensah, a former Senior Minister; Dr Paa Kwesi Nduom, a former Minister of Public Sector Reforms, and Samuel Nii Noi Ashong, a former Minister of State at the Ministry of Finance and Economic Planning, all of them in the Kufuor Administration, and Kwame Pianim, an economic consultant, were speaking at a public forum in Accra yesterday under a new initiative by Joy FM, an Accra-based radio station.
Dubbed "JOY FM Debate 2009", the maiden forum of the annual event was on the theme, "Building consensus on a national development agenda".
Mr Mensah stressed the need for the nation to agree on a common set of objectives and marshal all efforts towards that direction in order to make progress.
He said the National Development Planning Commission (NDPC), which he chaired for sometime, had done a tremendous job based on wide consultation with all stakeholders, including political parties, and so there was no need for the present government to look too far for a development blueprint to execute.
He said if care was not taken, "we will spend all our time balancing off competing claims", adding that although in the end the government could do something, it might not fulfil what it initially intended to do.
Imbued with enormous experience of walking through development plans from the administrations of Dr Nkrumah through Dr Busia to Mr Kufuor, Mr Mensah underlined the need for the nation to focus a major part of its development on long-term development.
According to him, if the government buffeted with short-term frustrations, it would never be able to execute the fundamental task that would help transform the country.
"It's so easy to be diverted by the short term," he remarked, adding, "You don't have teachers but it's easy to give school uniforms free".
Mr Mensah said without a development document based on national consensus and long-term planning, the much expected revenue from the oil find might even be squandered because there would be no basis to apply the resources.
For his part, Mr Pianim said there was the need to reach consensus on national issues and also prioritise national resources to enhance development.
He said it was important for Parliament to assert its oversight responsibility, but unfortunately, its independence had been weakened by the co-option of legislators into the executive arm of the state.
Mr Pianim said it was important to go back and debate the Constitution in order to make it a living document.
Joining the debate, Dr Nduom said "we need to build this society by integrating or blending the well-intentioned ideas of the past with new ideas but propelled by leaders who could formulate simple, coherent and inspiring development messages for the onward march towards realising the Directive Principles of State Policy that we have had since 1992".
According to him, it was time to find an alternative approach to reaching the destination of prosperity, stressing, "We should aim to do what we need to do differently, as our methods so far have not worked".
"Our success should also be predicated on doing different things from what we have done in the past. For all of us, what is needed is a new disciplined attitude, a new Ghanaian mentality of a proud, hardworking people so that we can create the wealth that can be shared," he stated.
Dr Nduom, who was the flag bearer of the Convention People's Party (CPP) in the 2008 elections, said in order to achieve the goal of becoming a middle-income country by 2020, there was the need to accelerate sustainable growth by increasing the economic growth rate from the current five per cent to seven per cent and beyond in the medium to long term.
He said the country could not attain a middle-income status by still relying on hoe-and-machete agriculture, an import-and-sell mentality, or by being a raw material exporter.
He expressed the hope that the country would take steps to add value to its oil and gas find to push its industrialisation agenda forward.
For the modernisation of agriculture and industrialisation to happen in the country, Dr Nduom said there was the need for a consensus to be reached on opening up the country and creating an enabling environment for the private sector.
In his submission, Dr Ashong, who is now a Research Fellow at the Centre for Policy Analysis (CEPA), said for the country to prosper and profit from its crude oil, in the medium to long term, it was extremely essential and critical that all segments of the population, particularly those belonging to the political divide, agreed on a national strategy for an accelerated, broad-based, geographically balanced growth and employment generation.
He said once such a nationally agreed strategy had been crafted, it should also be made mandatory and obligatory for all political parties to develop their manifestos based on the agreed strategy.
He said although the manifesto could differ in their approaches and implementation plan, they should all be consistent with the ultimate national strategy for sustainable accelerated growth.
Contributing to the debate, the President of the Ghana Employers Association (GEA), Mr Charles Cofie, said there was a big difference between what we knew and what we did as a nation.
He said the future goal of the country should be to elevate its competitiveness on the global market, as well as enhance its productivity.
For his part, the outgoing President of the Association of Ghana Industries (AGI), Mr Tony Oteng-Gyasi, urged Parliament to legislate national development by passing laws that would, for instance, promote local participation in strategic national industries.
He said the country could not develop with a three per cent royalty from mining companies, but a local participation in the mining sector to share in the profit therein.