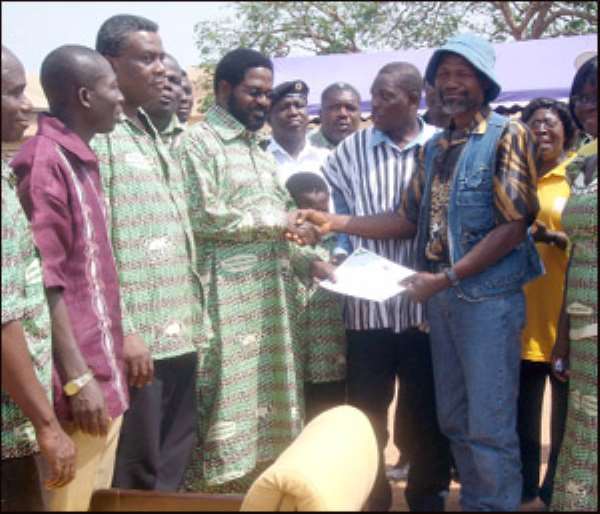 The Accra Metro best farmer receiving his certificate from AMA Boss
TWENTY-THREE Farmers on Friday received various awards due to their hard work as part of the celebration of this year's National Farmers' Day within the Accra Metropolis.
The prizes ranged from a set of furniture to farm implements.
Out of the 23 farmers, 55-year-old Enoch Mensah from La won the metro best farmer and received a set of furniture, bicycle, a spade, agro-chemicals and a ghetto blaster.
The Chief Executive of Accra Metropolitan Assembly, Alfred Okoe Vanderpuije, addressing the gathering, pointed out that the celebration of Farmers' Day should be used to sustain and develop the agriculture industry and nothing else.
According to him, Ghanaians should try to use the celebration of Farmers' Day to focus on the dynamic and transformational methods of farming and fishing to catch up with other farmers in the developed countries.
He reiterated that this year's National Farmers' Day celebration, under the theme 'Accelerated Agricultural Modernization for Food Security and Economic Transformation', should be a wake-up call for all to transform the nation through effective agricultural modernization.
The AMA boss described the best farmer as somebody who was able to produce quantities of crops like green pepper, tomatoes, okro and watermelon and at the same time constructed an irrigation facility, using local materials in the Greater Accra metropolis.
"I believe it is high time the trend of subsistence and peasant farming becomes a thing of the past if we agree that this nation is lagging behind in applying advanced technologies to revamp its agricultural industry," he noted.
The AMA boss pointed out that there are many challenges confronting the agro industry in the Greater Accra, especially regarding the alarming rate of estate development taking over the farmlands and its resultant effect on the crop and livestock farming activates.
"The time has come to plan our cities to make room for some of these essential needs such as agriculture and agro-processing".
The Acting Metro Director of food and Agriculture, Ebenezer Soli, on his part commended farmers within the Greater Accra metropolis, particularly the award winners, for their hard work.
He said the time has come for Ghanaians to learn to practice zero grazing where livestock could be raised without allowing them to feed from outside.
He said modernizing agriculture is a step forward to solving the unemployment situation and shortage of food in the country, stressing the need for farmers to be recognised.
By Stella Danso