What are Bagbin, Agbesi and Nyaunu Saying to Mills?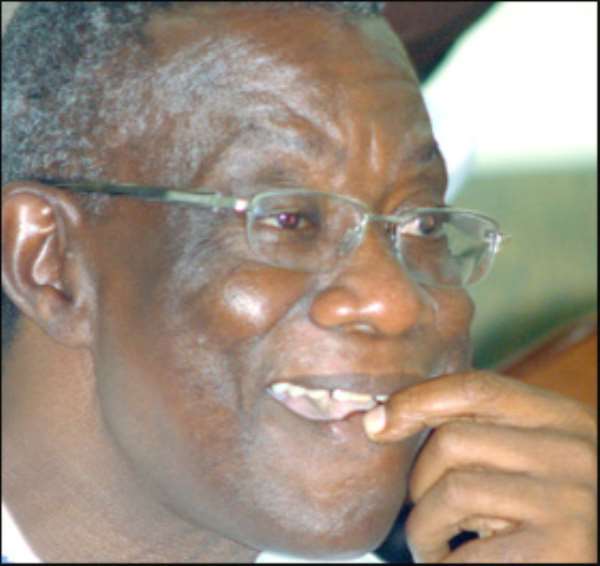 President Mills
I cannot laugh listening to Majority Leader in Parliament Alban Bagbin, and his fellow MPs criticising President Mills for failing to salvage the economy and delivering on his campaign promises. What were the NDC top brass thinking when they spent almost 6 months chasing vehicles and toilets that they thought had been stolen by Kuffour and his ministers? Weren't Alban Bagbin and his cohort in Parliament cheer-leading the seizure while the economy was left to rot? Did they expect the economy to be fixed when they devoted their time and energy on matters of less significance? We all know how Mills spent his first seven months in office. Despite inheriting relatively sound economy, the NDC led by Atta Mills has done nothing to maintain the condition the economy was in before they took office let alone improve upon it.
Readers should not get me wrong, I am not saying if anyone in the previous administration has done anything wrong against our state he or she should not be investigated and put before a court of competent juridiction and dealt with, what I am concerned is how the whole machinery of government was thrown into the process thereby ignoring vital issues such as the economy, job creation, and putting money in people's pocket as promised by the President in 2008.
Almost a year after taking office the economy is falling off the cliff, unemployment is souring, there is no money in people's pocket, inflation hovers between 18 and 25 percent, food and other essential commodities are out of the reach of the ordinary Ghanaian, fuel shortages are wide spread, cost of borrowing has skyrocketed, national youth employment programme is in limbo, the school feeding programme has been poisoned with NDC politics, the general security situation in the country and especially in the northern and upper regions has been worsened and there is no sector of the economy that has not been hit by the monumental failures of the Mills administration. The economy is deteriorating faster than otherwise thought whilst Mills and his ministers engage in propaganda politics, forgetting the pledge they made to Ghanaians during the campaigns.
For the better part of this year Mills and his henchmen at the BNI decided to pursue a policy of vindictiveness, witch hunting, lie peddling, unfounded accusations all to the neglect of the economy which is now in bad shape than had been imagined.
Mills and his ministers were busy arresting and detaining those who do not share their political ideologies instead of focussing on the business of government which is to make the nation more secure, more peaceful, more united and more developed including improving the living standard of the people, which is the sole duty of government.
While the top brass in the NDC led by Betty Mould and the security operatives were busy with arrests and detentions, the NDC thugs were also busy seizing toilets, locking up National Health Insurance Offices, sacking officials alleged to be sympathizers of opposition parties, demanded the blood of opposition members, while Mills kept silence and acted as if he was not aware of what was going on.
Then all of a sudden we have Alban Bagbin, Agbesi and Teye Nyaunu criticising the Mills administration for failing Ghanaians. Haven't they been approving every Bill the president had sent to Parliament? Didn't they approve the 'Team B' ministers nominated by the President who are nothing more than square pegs in round holes? What effort was really made to ensure that these ministers were really qualified and had the capacity to handle ministries and departments? Did they expect roads to be constructed, or schools to be built, or the perennial energy problem in the country to be solved when the ministers do not know what to do? Did they expect jobs to be created when valuable time was wasted on seizing toilets, passports, sacking workers and engaging in politics of no results and solutions? I know the only thing which is saving President Mills and the NDC majority in Parliament is our constitution which has prescribed a presidential system of government for us thereby making it possible for these incompetent ministers to have a field day. If it were Parliamentary system of government I know a vote of no confidence would have been passed a long time ago.
Now the NDC headed by the same Mills (who promised to be father for all but who has turned out to be father for NDC executives) have seen that they are about to be punished by Ghanaians for taking them for granted and these MPs are desperately calling for action to implement their manifesto. Did I say a manifesto, do they have one at all? I don't think so other wise we would have seen some real changes in the country. The call for action by these MPs is nothing but a desperate attempt to distance themselves from the mess they have helped created since the beginning of this year.
Is it too late for Mills and is it the end of his political career? Yes I think so because if the NDC executives, MPs and ministers who have access to power and money are complaining and are declaring a vote of no confidence in the government then how much more the poor Ghanaian who cannot afford to buy a cup of rice? All of them have already declared a vote of no confidence except perhaps those who want to polish the shoes of the President. The monumental failure of the Mills administration cannot be defended anywhere, not even by Mills himself. Can Mills eat his cake and have it again? I don't think so and that is why I think it is too late.
As the father for all mantra was replaced with the father for only NDC executives (not helping even the NDC foot soldiers), the economy was badly ignored to suffer without any proper attention.
Christmas is just around the corner and definitely President Mills and his ministers are going to enjoy themselves with champagnes but how many Ghanaians will be able to afford even a bottle of Coca-Cola? The NDC MPs are talking as if they were not aware of the problem from the beginning.
I cannot understand Alban Bagbin. Is he not the Majority Leader in Parliament? What initiative has Alban Bagbin and his cohort in Parliament taken to salvage the economy from total collapse? Or does it mean that our parliament cannot do anything without being told by Mills? Is Bagbin aware of what Senate Majority Leader in US (Senator Harry Reid) is doing to help Obama fix the US economy? Is the speaker of Ghana's Parliament aware of what Nancy Pelosi is doing to help Obama fix the broken US health system? I mean what are our MPs doing to help fix the economy and other problems confronting the nation?
The MPs criticising Mills will never solve the problems. I will like to see some initiatives on the part of the MPs themselves, and not always waiting for Mills to bring Bills just for the sake of debate and approval. The mess we are witnessing throughout the country is not the fault of Mills alone, it is the fault and failures of all the three arms of government and the institutions entrusted with powers and functions to help develop the country and that includes Parliament in which Alban Bagbin is an MP and majority leader. I will like to see our MPs stop taking the back seat while the economy is being badly managed and taking hit after hit.
Who doesn't know Mills and his team of ministers are a failure? The signs of their failure is written everywhere in the country. How many months did it take for Mills to secure oil for the nation? How many months did fishermen have to wait for premix fuel? How many months did he take to decide what should be done about the school feeding programme? Mills and his ministers dithered while the economy was left without a driver. Mills failure to reshuffle his cabinet despite the signs of monumental incompetence and failures on the part of his cabinet ministers is part of the reason why nothing seems to be working in the country.
Mills has finished squandering all his political capital and is now largely seen as a liability by majority of NDC functionaries including Rawlings, the so called founder of NDC. And that is why there is a talk of finding an alternative candidate for the 2012 general elections.
Mills should have hit the ground running immediately he took office knowing the challenges and tasks that were before him, instead he squandered the little credibility that was left for him when Muntaka was allowed to go unpunished and now there is no ground to hit. The blame must be put squarely at the door steps of Betty Mould Iddrisu and the so called security experts at the BNI who sowed the seed of insecurity immediately Obama left the country thereby scaring investors away from the country. What became the excitement that greeted Obama's visit? Didn't the BNI blow it away with the arrest of former ministers and seizure of cars and passports? For the information of Mills no investor will like to put his money in a place where there seems to be insecurity and corruption and bribery. The Muntaka saga, which was quickly followed by the Mabey and Johnson, did send a wrong signal to investors and that is one of the reason why our economy is still bleeding and poverty is rising.
So Alban Bagbin, Alfred Agbesi and Teye Nyaunu should not waste their time thinking that by criticising Mills Ghanaians will forgive them for failing once again.
There is no doubt Mills has failed as the head of the executive branch of government, but Bagbin too is the Majority leader in Parliament and Ghanaians will want to know what Parliament too has done to help arrest the situation in the country. I mean what policy alternatives have these men offered the President? My point is that both the executive headed by Mills and legislature in which Alban Bagbin is a key player have failed Ghanaians and Bagbin should not play a smart card. He and his team in Parliament must also take part of the blame for the meltdown in the country.
As for Mills and his ministers I hope they take the advice I offered them when they first took office.
Development / Accra / Ghana / Africa / Modernghana.com