Govt Takes Measures To Ease Traffic Congestion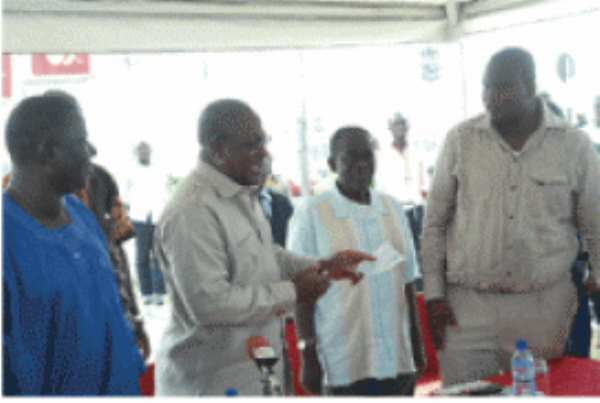 Vice President John Mahama handing over a cheque to Dr Richard Kwofie (right), Project Engineer of SONITRA, after receiving it from Mr Joseph Akyaw (second right), Chairman of the Accra Mall. With them is Mr Joe Gidisu (left) Minister of Roads.
The prospects of traffic congestion easing up in the business centre of Accra brightened up when the Vice-President, Mr John Dramani Mahama, inaugurated blackout-free traffic lights to facilitate traffic management in the metropolis.
The installation of the new traffic lights forms part of measures being instituted by the government to reduce congestion in Accra and Kumasi within the next six months.
The measures include the use of led signal instead of the halogen lamps, the use of controllers that will allow for communication between signals on a particular stretch of road, which will fit into a future area wide co-ordination of traffic lights, instead of the present system where the traffic lights do not communicate.
Inaugurating the upgraded traffic lights at Abossey Okai in Accra, Mr Mahama said 'ensuring the proper functioning of traffic lights in the country is a priority area of the government'.
There are 152 traffic lights in Accra, out of which 42 (representing 27 per cent) located at different junctions and intersections have not been functional for a period up to four years.
He said the unique thing about the new facility was that the lights were not affected by blackouts, and that 'this will reduce congestion and delays at the intersections."
The Vice-President also inspected some emergency road rehabilitation works in Accra, being carried out as part of efforts to repair roads which were damaged as a result of floods.
In Accra West, roads which will be rehabilitated include Dansoman High street, Wowoti Road, Guggisberg Avenue Extension, Akoshie Junction-Extension Roundabout. Among roads to be rehabilitated in the Accra East are Adjirigano, Jungle Road, Garden Street and Lagos Avenue.
In a related development, the Inter City Hotels (Accra Mall) has presented a cheque for GH¢102,802.22 representing 60 per cent of cost of the Spintex Road Improvement works.
Presenting the cheque to the Vice-President in Accra yesterday, the Executive Chairman of the mall, Mr J. Owusu-Akyaw, said on the assumption of office, President Mills made the improvement of the Spintex Road a priority to alleviate the concerns of the residents in the vicinity of the Accra Mall.
'You initiated a dialogue between the Ministry of Roads and Highways through the Sector Minister, Mr Joe Gidisu. This culminated in the decision for work to commence and Accra Mall consented to contribute 60 per cent of the cost of the works,' he said.
Receiving the cheque, the Vice-President expressed appreciation to the management of the mall and said the government would continue to engage the private sector in its efforts to improve the lives of people. Share Your Thoughts on this article Name Email Location Comments Graphic Ghana may edit your comments and not all comments will be published