NDC fumbling, not finding rhythm - Kan-Dapaah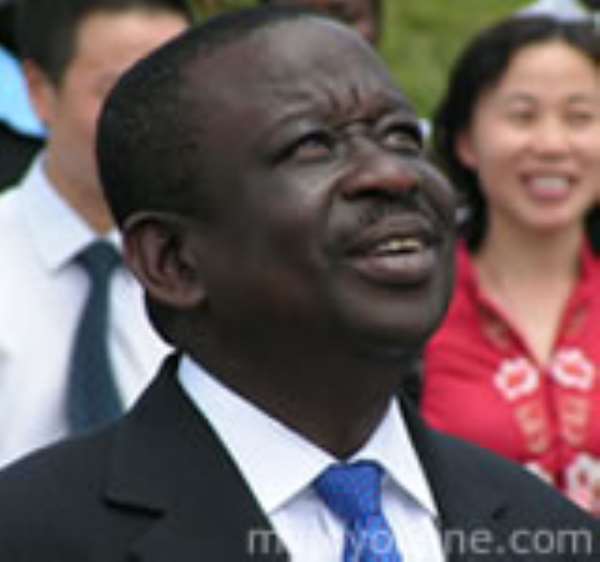 Former Minister of Defence, Mr Albert Kan Dapaah
The Minister of Defence in the Kufuor administration, Mr Albert Kan Dapaah, has said since the National Democratic Congress took over the mantle of political leadership, it has been fumbling and not finding its rhythm.
He has therefore urged members of the New Patriotic Party to avoid the blame game, unite more than ever before and work hard to recapture political power from the NDC government in 2012.
He said the time had come for NPP supporters and sympathisers to eschew hatred, animosity and infighting.
He said party members must also adopt a more positive approach and work aggressively to rekindle the masses by propagating the good work of the NPP when they were in government.
He confessed that the defeat of the NPP by the NDC in the 2008 general election came as a shock to the party, because the members did not expect it.
Mr Kan Dapaah, who is also the Member of Parliament (MP) for Afigya-Sekyere West constituency, made this confession when he addressed the constituency Delegates Congress at Kyerekrom Presbyterian Vocational Centre.
At the congress, new executives were elected. Mr J.K. Awuah-Brobbey who was the First Vice-Chairman, was elected unopposed as the new Constituency Chairman in an election supervised by the Afigya Kwabre District Electoral Officer, Mr Joshua Ofori Prempeh.

Other officials who were also elected unopposed included Kwaku Abroakwa, Gladys Opoku and Samuel Kusi for the positions of Second Vice-Chairman; Women Organiser and Youth Organiser respectively. The position of Secretary went to Mr Martin Appiah-Danquah who defeated the incumbent, Mr Peter Okyere.
Mr Daniel Dwete Agyare won the First Vice-Chairman position; Nana Boakye-Yiadom was elected the Constituency Organiser; Bernard Okyere, Treasurer; while the position of Assistant Secretary went to Mr Edward Oduro.
Mr Dapaah said though the party hierarchy, inc1uding. Himself made frantic efforts to win the 2008 elections, they failed and had accepted blame being levelled against them by the supporters and sympathisers of the party.
He commended Mr Yaw Asuo-Baninn, the Constituency Chairman who voluntarily withdrew from the race after eight years of dedicated service.
The outgoing Constituency Chairman, Mr Asuo-Banin, for his part advised members to ensure that peace always prevailed in the party.
He gave the assurance that he would rally behind the new executives and provide his expertise when the need arose to ensure victory for the party.

Mr Awuah-Brobbey on behalf of the executives said they would work hard to win political power.