Abide By Laws Of Your Hosts - Prez Mills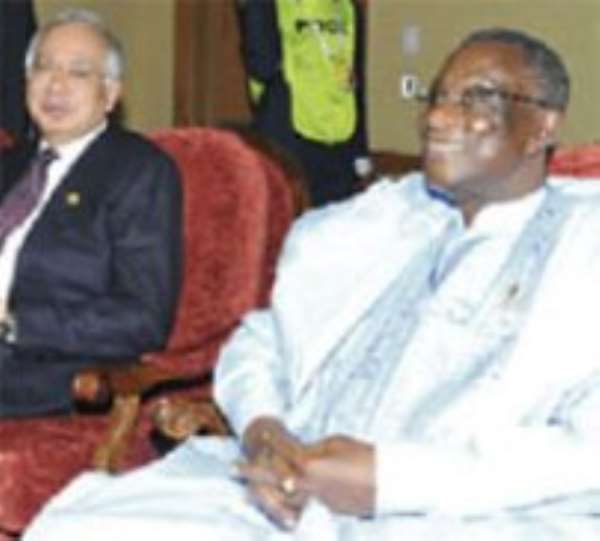 President Mills with colleague, the Malaysian Prime Minister, Najib Abdul Razak, at one of the retreat sessions.
Presdent John Evans Atta Mills has asked Ghanaians living abroad to abide by the laws of their host countries and keep themselves informed of developments in Ghana.
Addressing Ghanaians resident in Trinidad and Tobago, President Mills said the government would intensify its desire to facilitate the economic development and social progress of the country.
He explained that since the government assumed political office in January, it had put in place prudent measures intended to revamp the economy and stimulate productivity at all levels of society.
According to him, the government would not renege on its electoral promises to the people, since it entered into a social contract with them in the 2008 elections.
The President spelt out the number of interventions the government had initiated to put the economy on an even keel and ensure improvement in the material conditions of the people.
Those, he said, included the provision of free uniforms for schoolchildren at the basic level, increase in the capitation grant and subsidising farming inputs.
President Mills said the government had also put in place measures which had led to a reduction in the inflationary rate in the country. Share Your Thoughts on this article Name Email Location Comments Graphic Ghana may edit your comments and not all comments will be published