South Tongu District: 90% road accidents avoidable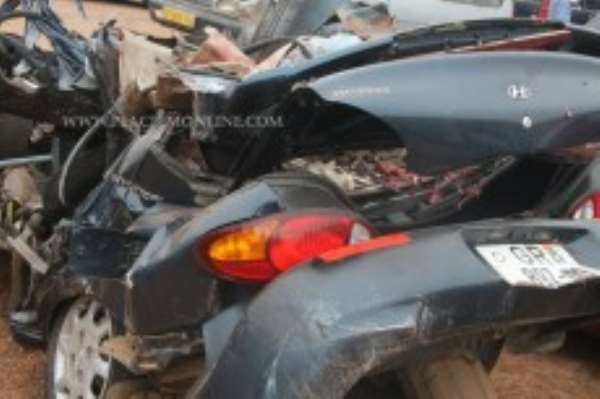 More than 90 per cent of all road accidents experienced in the South Tongu District are due to avoidable human errors which result in the loss of vital human resource and economic development of the country.
Superintendent Martin Amofa, Tongu Divisional Police Commander and Chairman of the South Tongu District Road Safety Committee, disclosed this at the district launch of this year's road safety campaign on the theme, ARRIVE ALIVE: ROAD SAFETY IS A SHARED AND COLLECTIVE RESPONSIBILITY.
He attributed the numerous road carnages to the careless attitudes of drivers and called on them to follow with circumspection the road safety regulations provided by the National Road Safety Commission (NRSC) to avoid unnecessary deaths and injuries on the road.
He called on vehicle owners to serve as checks on their drivers so that the negligence of drivers, including overspeeding, unnecessary overtaking, overloading of vehicles and refusal to put on seat belts, which he said are the major causes of accidents could be reduced.
Supt. Amofa identified mechanical defects such as the inability to fix right tyres and engage qualified mechanics to work on cars coupled with untrained driving as responsible to the copious massacre that takes place on the road especially during festive seasons such as Christmas and Easter.
"In order to correct all these tendencies of death and unnecessary loss to the country, everybody, especially all road users must ensure that the right things are done to save lives", he said.
He cautioned drivers and vehicle owners in the district to desist from ways that seek to sabotage the work of the police and that various task forces would be set up to regulate the unscrupulous activities of drivers on the road.
He noted that drivers who flout the traffic regulations would be processed before the law court and be made to answer for themselves.
The District Chief Executive for the area, Daniel Amelorku, called on the police to clamp down on drivers who do not possess relevant documents and that efforts should be made to sanitize the system for all to live in peace during the festive season.
By: Noble Johnson Kukubor