NDC Activist Warns: Rawlings Can Overthrow Mills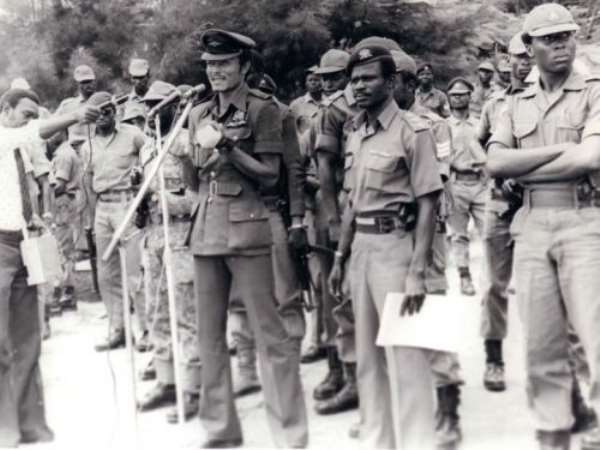 Some memories from June 4, 1979
The President, Professor John Evans Atta Mills, has been strongly cautioned to tighten his security detail around him to avoid being ousted by former President Jerry John Rawlings.
Speaking on Accra based radio station yesterday, Osei Yaw Nketia popularly known as Dr Asemfofro, staunch NDC member, who was beside himself with anger warned that former President Mr Rawlings "is a dangerous man who can stage a coup to overthrow sitting President Mills."
He premised his caution to President Mills on the basis that Mr Rawlings in 1981 staged a coup and overthrew Dr Hilla Limann, in 1981 after Ghanaians had elected Dr Limann in a national election.
According to Dr Asemfofro, Mr Rawlings is still thirsting to become the President of this country even though he has served his term as President of Ghana. He wondered what Rawlings was able to achieve under his 19 years rule of this country, arguing that "his 19 year of Ghana was distasteful and nothing to write home about."
"Rawlings demonstrated his burning desire to become President again of this country, the next day, January 8, 2001; he handed over power to former President John Agyekum Kufuor," recounted Dr Asemfofro.
The die-hard NDC activist therefore asked Mr Rawlings to "shut up and allow President Mills to rule this country."
He said Professor Mills was not elected as President of Ghana by Mr Rawlings but by the good people of this country, adding that his day-to-day disparaging comments and insults of President Mills was "shameful and disgraceful." In the opinion of Dr Asemfofro, former President Rawlings must bow down his head in shame, describing him as "someone who does not respect him."
He argued that the mere fact that Rawlings is the founding member of the NDC does not give him the leeway to be persistently chastising and disgracing President Mills. "Mr Rawlings must understand that in terms of age Professor Mills is older than him and in the area of academics he [referring to former President Rawlings] is nowhere near Professor Mills.
Professor Mills is a learned Professor whose academic laurels far outweigh what Mr Rawlings has," Dr Asemfofro noted. Against this background, Dr Asemfofro told Mr Rawlings and his wife Nana Konadu Agyeman Rawlings to learn to show respect and decorum towards President Mills and refrain from their constant verbal attacks against the President.
Dr Asemfofro advised Mr Rawlings to take a cue from past President like Bill Clinton of USA, Olushegun Obasanjo of Nigeria among others and learn to conduct himself in the way and manner these former presidents have behaved.
"We can all see the way former US President Bill Clinton and Nigerian President Olushegun Obasanjo have conducted themselves, why can't former President Rawlings take a cue from these people and learn to conduct himself in such manner," quizzed Asemfofro.
Although is an ardent fan of Mr Rawlings, Asemfofro observed that he abhors him for his persistent castigations of Prof Mills. "Mr Rawlings should respect himself so that we can also respect him and anything sort of that we who are even his fans will never respect him," asserted Dr Asemfofro.
The NDC, he stressed, can stand on its two legs without the assistance of Mr Rawlings, adding that if former President Rawlings wishes to leave the part he can go and nobody will prevent him from taking that decision.
Dr Asemfofro also descended heavily on Hon. Alban Sumana Kingsford Bagbin, the Majority leader, describing him as somebody who was following Mr Rawlings blindly. "Mr Bagbin did not help matters when instead of telling and asking Mr Rawlings in the face to stop his continuous repudiation of President Mills, he also stirred the hornet nest by blindly supporting him (Mr Rawlings)," he indicated.
Following his submissions on radio, Dr Asemfofro indicated that he would not be surprised if Mr Rawlings will hire thugs and direct them to take his life from the face of the earth. In the estimation of Dr Asemfofro, President Mills was given a four-year mandate to turn the fortunes of the Ghanaian economy, and that he was confident that the President will execute that mandate with diligence.
However, he added that if after the four years Ghanaians are not satisfied with the performance of Prof. Mills, Ghanaians in their own wisdom will give the presidency to another person and not former President Rawlings.