December 1, 2009
|
Religion
Don't joke with Antoa Nyamaa, quarrelling pastors warned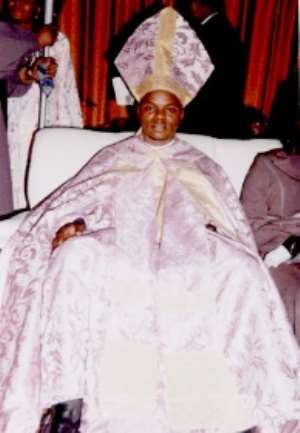 The Nsumankwaahene (Spiritual Head) of Ashanti, Baafour Domfe Gyeabour III, has waded into the pastoral quarrel between Rev Ebenezer Adarkwa-Yiadom of the Ebenezer Prayer Mission and Bishop Daniel Obinim of the International God's Way Church, with a warning that the invocation of the Ashanti deity, Antoa Nyamaa, could have dire consequences for the clergymen.
Reacting to the drama which unfolded at the Suame Police Station last Saturday where one Frank Annor, who described himself as a former confidant of Bishop Obinim's, invoked Antoa Nyamaa to curse the bishop, the Nsumankwaahene warned of serious spiritual implications for Christians who resorted to the use of the river deity to settle personal scores.
"In Ashanti, one is likely to suffer serious ill-health and sometimes death if one makes false allegations against another, as is happening among people who claim to be. Christians," he told the Daily Graphic.

Annor, who alleged that Bishop Obinim had sent him to bury suspected human parts, a dead snake and red candles at Rev Adarkwa-Yiadom's prayer camp at Ahenema Kokoben in Kumasi, used eggs and Schnapps to curse he bishop when the Bishop denied ever sending or knowing Annor.
Baafour Gyeabour said the gods could act swiftly to punish the guilty party in the matter involving Bishop Obinim and Annor, as had been happening to other people.
He pointed out that a staunch member of the Jehovah's Witnesses organisation who resided in Offinso in the Ashanti Region suffered an unfortunate death 18 years ago when he used the Antoa river god to curse a church member.
"His stomach started protruding and his legs also began swelling before he was rushed there to reverse the curse, but it was too late so he died a miserable death. I believe that if there is truth or not in what has happened, one of them will suffer a serious consequence," Baafour Gyeabour said.
He said his outfit would not invite any of the parties in the curse but in their own interest they would have to go over to him to reverse the curse before the gods struck.
The Nsumankwaahenc advised against the use of Antoa Nyamaa to settle personal scores, stressing that doing so could bring hardships to the guilty party.
The Anglican Bishop of Kumasi and member of the Local Council of Churches, Rt Rev Daniel Yinka-Sarfo, asked the feuding men of God to cease fire immediately because what they were doing was a dent on their image and that of the church.
"What they are doing is a disgrace to themselves, their churches and their followers and they must cease," he said.
He told the Daily Graphic that Christianity was a respected religion and that charlatan leaders who wanted to profit from unsuspecting congregation could end up disgracing themselves.

Rt Rev Yinka-Sarfo hinted that the Local Council of Churches might meet Bishop Obinim and Rev Adarkwa-Yiadom to find a way of settling their differences.
"The only problem is that the two pastors do not belong to any of the recognised Christian groups and so it has been very difficult sitting them down," he said.